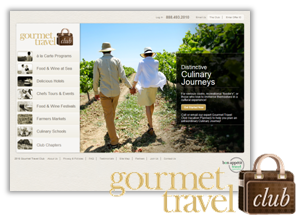 Tired of the same ol' city and the same ol' food? Then check out Gourmet Travel Club's new website, launched last week by Guidance. The site,
www.gourmettravelclub.com
, offers upscale culinary travel experiences to all corners of the globe.
Guidance provided branding & strategy, information architecture & visual design, and technical design & development services to build Gourmet Travel Club's new website. Built on Drupal CMS, the site also uses SlideShowPro Director to serve up images and slide shows of travel locations. Content managers can easily update the site's featured events, images and travel information through Drupal's admin system. Guidance also hosts the site virtually.
Visitors of the site can join the Gourmet Travel Club by creating a free account. Membership will let visitors find out about new travel packages and events, share findings with friends within and outside the club, add content browsed on the site to their "favorites" folder, and post reviews of any of the locations featured on the site.
GourmetTravelClub.com features hundreds of à la carte travel programs, food and wine cruise packages, and culinary hotel stay experiences, as well as information about chefs tours and events, food and wine festivals, farmers markets, culinary schools and local Gourmet Travel Club chapters.
To learn more about Gourmet Travel Club, visit their website at www.gourmettravelclub.com