Fashion trends come and go, but increasing your online revenue is always in style.
Both fashion designers and retailers have partnered with Guidance to create a rich, differentiated brand experiences. And the results speak for themselves: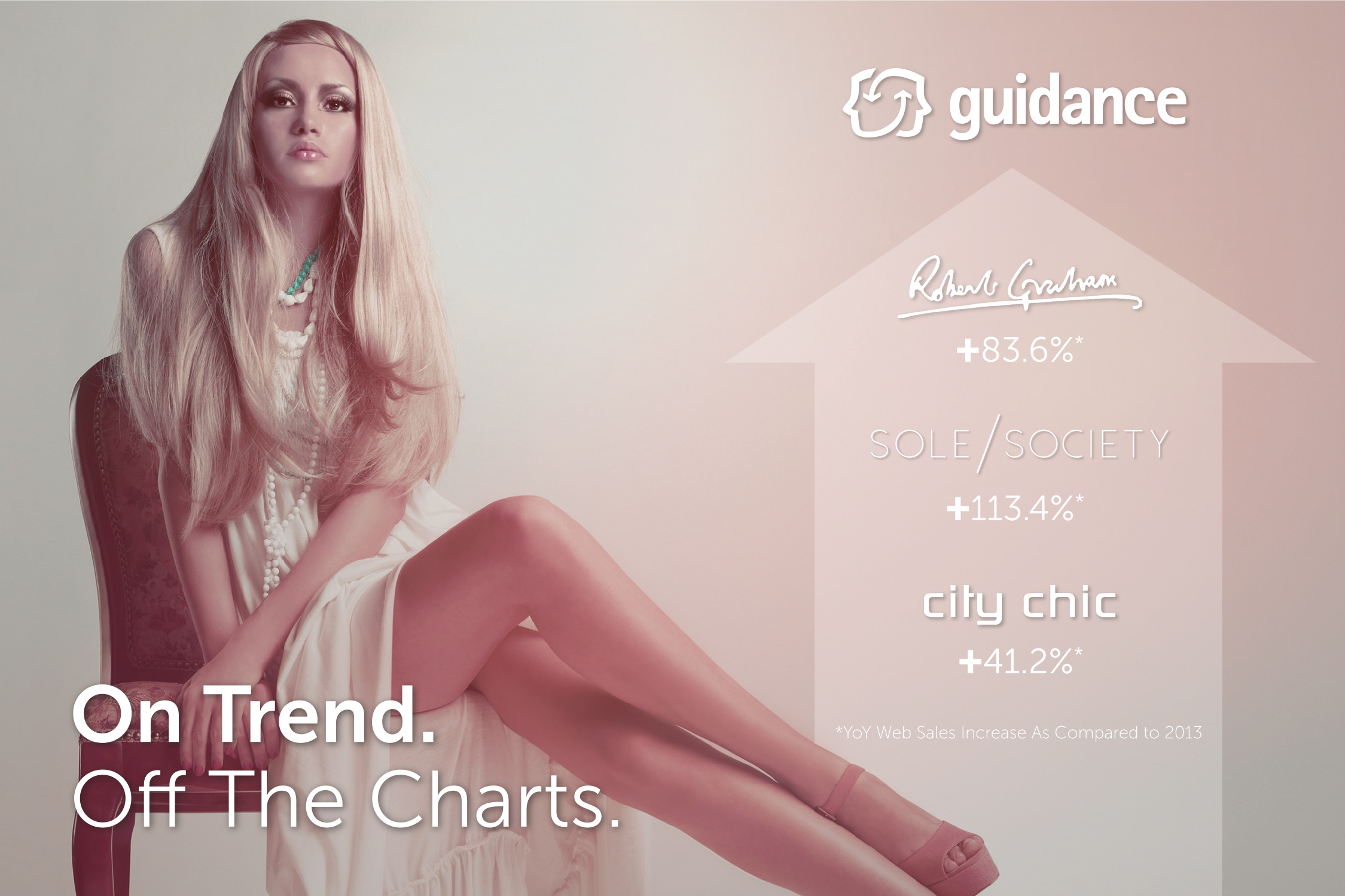 Robert Graham, the luxury designer of clothing for men and women, first partnered with Guidance in 2013, to upgrade its eCommerce site to improve their customer experience, site performance and migrate to a more flexible, self-managed platform.

Guidance delivered a Magento Enterprise website that has won a WebAward, and has been designated as "The Best Retail Website" by the Interactive Media Awards.

Awards aside, the additional merchandising opportunities Guidance provided, has netted Robert Graham an 83.6% increase in YoY revenue (as compared to 2013).


Sole Society, the Camuto Group, Nordstrom, Inc. and Insight Venture Partners partnered retailer of on-trend women's shoes, handbags and accessories retailer, sought out Guidance in 2013 to improve its Magento Enterprise site performance, integrations and login functionality.

Guidance did such a great job improving performance (reduced average page load time by 50%, and improved the "Quick view" functionality load time from 4 seconds to a 1.5 second load – a 75% reduction), that Sole Society retained Guidance to become its agency of record.

Guidance now provides ongoing development, maintenance and hosting services. This partnership has yielded significant returns: Sole Society achieved an 113.4% increase in YoY revenue (as compared to 2013).


City Chic, Australia's leading destination of trendy plus size clothing, partnered with Guidance in 2012 to develop an entrance strategy into the U.S. market, beginning with the creation of a website that would cater exclusively to the U.S. audience.

Guidance custom developed a Magento Enterprise site that effectively communicated the brand and engaged customers with multiple promotion features and functions. The relationship has been fruitful. In 2014, City Chic online sales grew by 41.2% as compared to 2013.
These fashion retailers are gaining online customers and increasing revenue daily. Stay ahead of your competition with the cutting-edge solutions delivered by Magento and Guidance. Contact us to learn how to boost your fashion sales.
Or if you'll be at the upcoming Imagine Commerce conference and expo, look for us in the Marketplace to discuss what how to design a fashion site that sells.