Are you scrambling to make the most of the 2015 holiday shopping season? Don't stress. Strategize! Today marks the second installment in our series on last-minute tips for retailers. (If you're just joining us, you can catch up on last week's post here.)
We're pleased to introduce Ashley Dunn, Social Media Manager for Charming Charlie, who offered a wealth of ideas you can still incorporate by Black Friday. Below are some highlights from our lively, informative conversation.
How do you approach social media planning for the holiday season?
I start by creating a content calendar and playing with all the key dates. I strategize around Cyber Monday, Black Friday, Green Monday, the day after Cyber Monday, etc.
The next thing I attack is shipping windows. (For instance, "free shipping" offers or the last day you can use ground shipping for gifts that arrive by Christmas. I always educate consumers about the timing to create urgency around shopping online.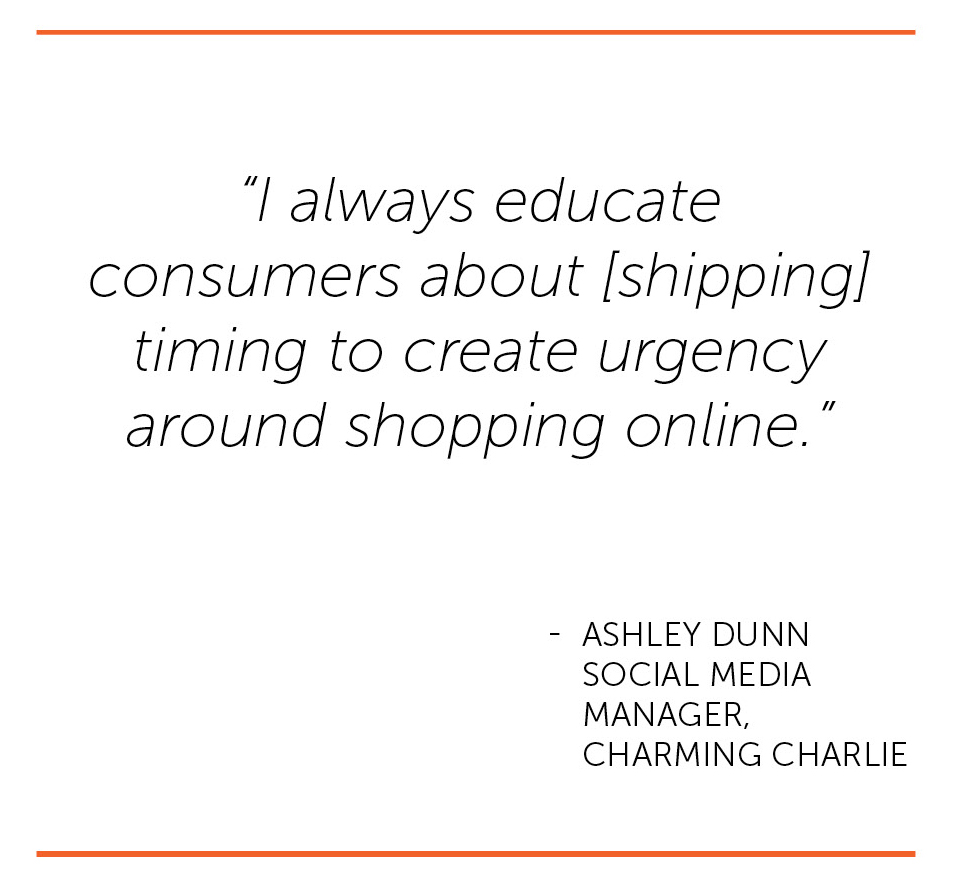 This year there will be 200,000 people that will be advertising on Facebook alone. Instagram is also in play – and it's supposed to go up by 50% by the end of November! Social media is a very cluttered area, so disruptive creative is key.
We have a third party that helps optimize on the back end, but ultimately the success depends on strong creative. At Charming Charlie, we use lifestyle images that show color and communicate our brand messaging with pithy copy like, "If you love color, follow us!"
Ultimately, I strive to increase the number of eyeballs that will see our ads tied specifically to holiday promotions.
Can you tell us a little bit more about how you're using Instagram?
Instagram has just opened their ad platform, and it's very similar to the way Facebook ads are running. All of our Instagram links are shoppable via Like2Buy. The link in our bio is static. It never changes, but it gives longevity to the media we've purchased on Instagram. (As a contrast, think about the blogger accounts that say, "Shop the link in my bio," but then that link is gone as soon as the blogger posts something else.)
Do statistics and forecasting play a role in your planning?
Yes. There are definitely some interesting statistics that I'm thinking about for the upcoming holiday season. This data is all from Facebook:
Over 1/3 of moms said they planned on doing 50% of their shopping online on Black Friday and Cyber Monday. That's huge!
Millennials shop primarily on their phones, so they want to get in and out with one click.
Hispanics are more likely to have smartphones and more likely to use them for buying decisions in the funnel. They're also more apt to buy right from their phones.
Even Baby Boomers are part of the story. It's interesting that one in four mobile shoppers in the U.S. is now over age 55.
What are your best practices for online advertising?
When I think about my ad units, I optimize for mobile first and desktops second. I zoom in on the product, making lifestyle secondary, so it's very clear what I'm trying to get this shopper to understand.
During the holidays, we usually do something disruptive. Cyber Monday is known for free shipping, and we have to go with the norm there. We'll go after an audience we haven't been talking to, then have the ads kick in. We also optimize the timing. We'll call attention to our bestsellers and high-ROI initiatives. Instead of prospecting, which we do at other times of the year, we're really honing in and encouraging shoppers to buy.
Pinterest sells ad units and so does Twitter. I run every ad I can during the Christmas season, and I make sure I have the budget to shift funds on short notice. If something isn't resonating with your target consumers, dump it and move on. In our case, we say, "The woman we're trying to reach didn't like this." That's all we need to know to re-strategize.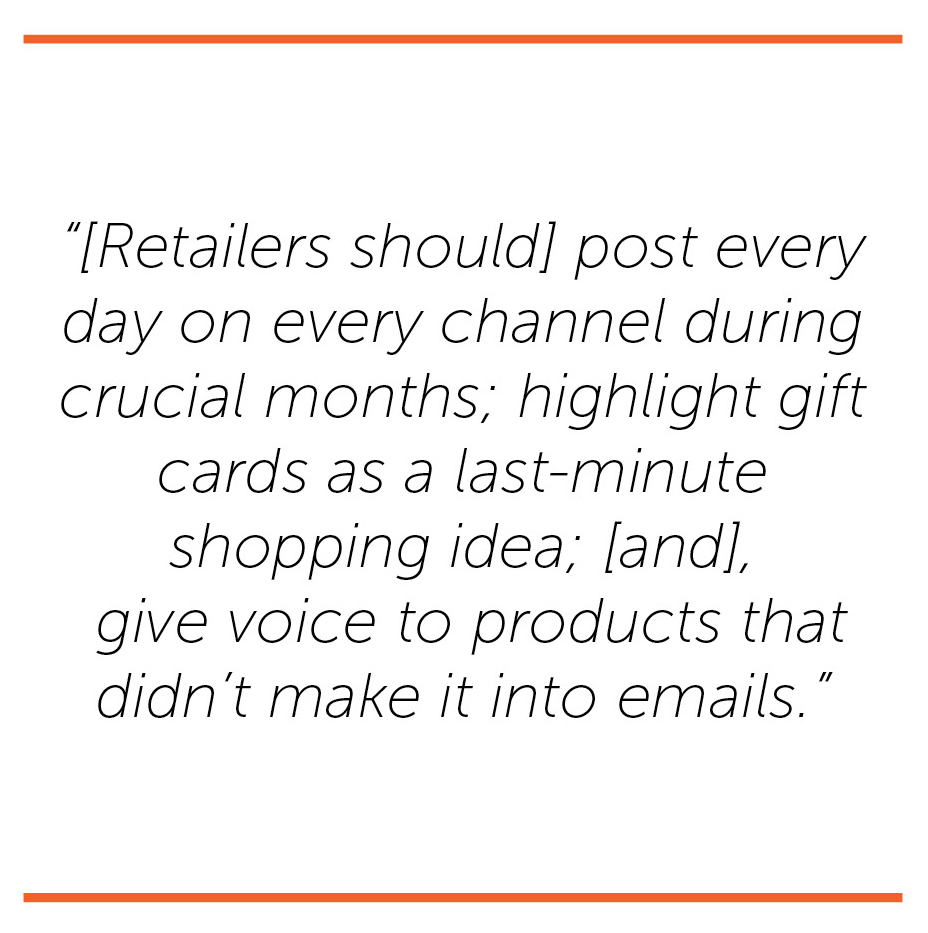 What else can you tell us about talking to consumers during this all-important shopping season?
For the holidays, I recommend that retailers:
Post every day on every channel during crucial months
Highlight gift cards as a last-minute shopping idea
Give voice to products that didn't make it into the emails
You can create really specific moments on social media around niche items. For us, it's handbags, jewelry, earrings, and gifting items.
You can also look at what's naturally trending online and become part of that conversation. Let's say it's National Frappuccino Day. The second you see Starbucks behind that, you know it's going to be big so you can craft your message to align with the trending topic.
Good one! Are there guidelines for jumping on other people's campaigns?
Keep it timely and relevant, but know when it's over! If you miss it, you miss it. Sometimes it's too much of a stretch for your brand, and you risk a poor reflection on your company. For example, some retailers have been accused of hopping on the pink bandwagon for breast cancer awareness when they don't authentically have a connection to that cause. If you mention it and it turns out your brand doesn't support it, it's a hotbed of "no."
Are there companies whose social media efforts you really admire?
I love Kate Spade. It's very playful, and it feels like "her" behind the brand and behind the team. Tory Burch is inspirational as well as aspirational. She shares great design insights, like how a gorgeous sky can be interpreted as a pattern on a skirt. I also love Michael Kors because his photography is so beautiful.
What kinds of things can retailers do digitally to get shoppers into stores?
I've had some very successful, very affordable campaigns designed to drive foot traffic into stores. You can run mobile ads for as little as five dollars! You can also build local awareness through push notifications and Facebook that send people directions straight to your store.
This works especially well for free events or shopper incentives (like a gift with purchase). If you have a high concentration of fans who are already in the area, you can boost that and go within a 10-mile radius. There are really effective $10-15 ways to drive traffic into stores and make a big difference.
*****
This wraps up Part Two of our Omni-channel Holiday series. Be sure to visit next week, when we'll have more ideas and inspiration from our own Brian Beck. In the meantime, get out there and start working those social channels!