Fall is flying by, which means the 2015 holiday shopping season is right around the corner. Maybe the calendar crept up on you. Maybe your budget didn't quite match your marketing aspirations. Don't worry! There's still time to implement ideas that can have a positive impact on your Q4 results.
Today we're kicking off a three-part series devoted to last-minute strategies for retailers. We spoke with Brian Beck, SVP of eCommerce & Omni-channel Strategy at Guidance. He draws upon years of experience as a C-level commerce executive to share innovative, actionable tips.
What should retailers be thinking about at this stage of the game?
What we're looking at is an eight-week period starting at the beginning of November and running through the end of December. If you're a retailer, it's definitely not too late to think about your peaks and valleys and use them to your advantage. There's still time to map out: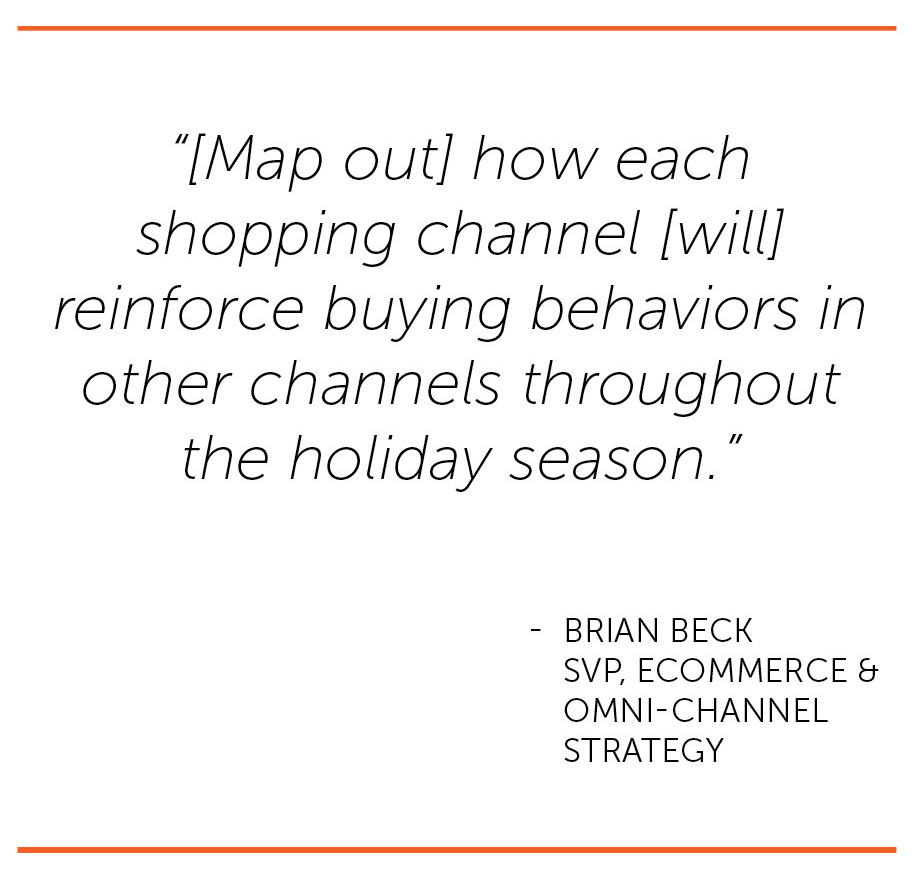 1. What channel people are browsing and buying in during each phase of the holiday period.
2. What the intent of the shopper is in each channel during each week of the holiday period.
3. How you can use each shopping channel to reinforce buying behaviors in other channels throughout the holiday season.
One of the best ways to do this is to look at prior years and evaluate the buying behavior – peaks and valleys by shopping channel, for example. From there, you can adjust messaging and promotions with that data in mind.
Can you give us a real-world example?
Sure. When I was at PacSun, we recognized that the period leading up to Black Friday week was really about self-purchasing. It was a period of anticipation and build-up with a lot of product research. Reflecting that mindset, we focused on creating moments – things that would bring people back when it was time to buy and also give them a bit of that self-shopper incentive. Messages like "Treat yourself this holiday season" were appropriate in light of the analytics.
What are the key dates that retailers should plan for?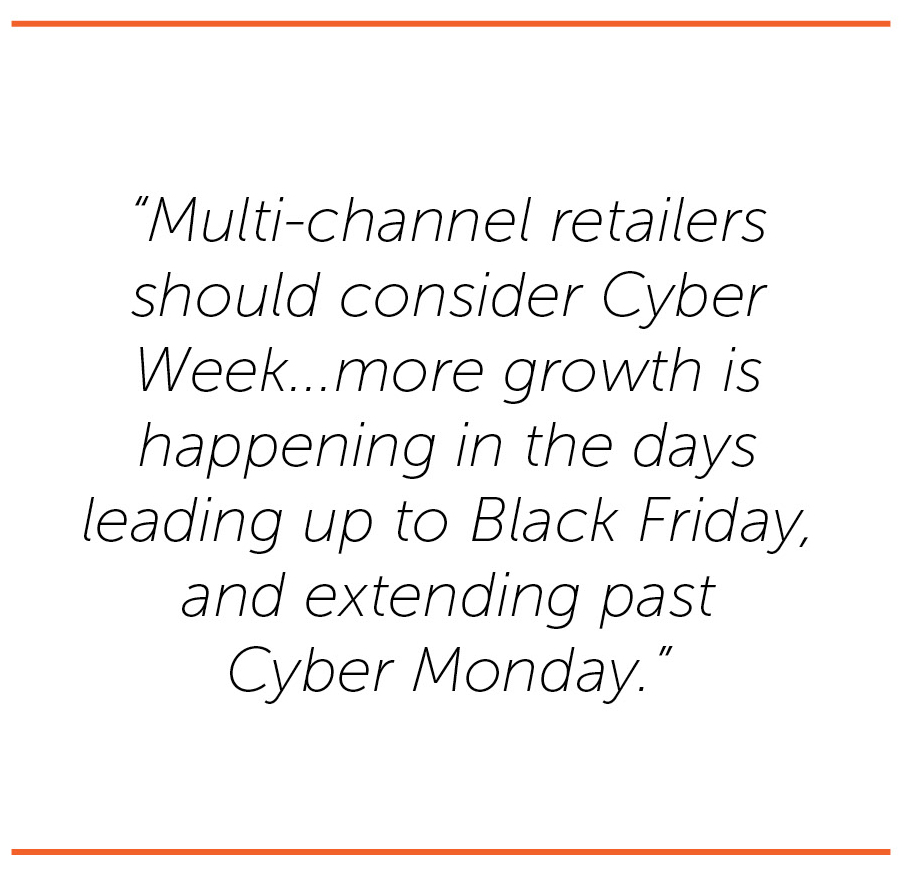 Multi-channel retailers should consider the entire period of Cyber Week, which today is extending further and further out on either end. If you look at the data, it's really fascinating. It used to be that Cyber Monday and Black Friday were the big days. They're still huge, but the year-over-year growth has actually slowed on those two days. Now it's spread out, with a lot more growth happening in the days leading up to Black Friday, and extending for several days past Cyber Monday. This is true both online and in stores.
Retailers should look at what happened last year and understand that there may be opportunities on the edge or in the middle of that Cyber Week. From there, it's about tailoring your messaging throughout that week. You can use those peaks and valleys in the different channels to drive repeat purchase and bounce-back to other channels after that peak week.
Do you have any tips on marketing planning for Cyber Week?
One of the best pieces of advice I could give to a retailer is to create unique promotions every single day that week. That time of year is frenetic, and the consumer attention span is extremely short. People are making quick decisions around what they're buying. There's a lot of noise, so you need to be active during that period instead of staying with the same message. Generally retailers think about weeks or seasons, but in this case, it's "What am I doing on the Saturday after Black Friday?" and so on.
After Cyber Monday, you'll want to look at traffic patterns and purchase patterns. It's still feasible to adjust how you're shaping promotions around those dates. Keep in mind that consumers expect a deal at this time of year, and incorporating free shipping at some level is a must. Channels must work together to drive results. At PacSun, we put a bounce-back card in every Black Friday shopping bag with an exclusive online offer. We felt confident that people were going to shop online based on past patterns after Cyber Monday. Carefully planning each day of this critical week helped us generate the largest Cyber Monday and Cyber Week on record in terms of online sales volume.
*****
This concludes Part One of our series. Be sure to check back for more insights from Brian Beck, including a hot mobile marketing opportunity and Cyber Monday success story to inspire your planning. We'll also share social media strategies retailers can use from now through Christmas.