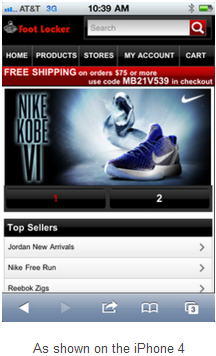 Today's article in
Internet Retailer Magazine
(IR) acknowledges the work that Footlocker.com and Guidance did earlier this year to re-launch Foot Locker's portfolio sites on a new and much improved mobile platform.
IR's own Kevin Woodward offers a great enumeration of the functional enhancements and new features found in several of Foot Locker's online brands, including Foot Locker, Champs Sports and CCS.
Leveraging Foot Locker's online partner of over 10 years, Guidance was tapped to re-launch the online stores between January and early March of this year. "By using them for our mobile sites we were able to share features and functionalities between our online channels," said a familiar spokeswoman at Foot Locker. The mobile sites were previously developed and hosted by a third-party mobile shop.
All told, Guidance launched 8 new mobile Foot Locker brands earlier this year, including Eastbay, Foot Locker, Champs Sports, CCS, Foot Action, Final Score, Kids Foot Locker, and Lady Foot Locker. (When linking to those sites from this post, keep in mind it will take you to m.footlocker.com, for example, which is optimized for mobile vs. desktop browsing.)