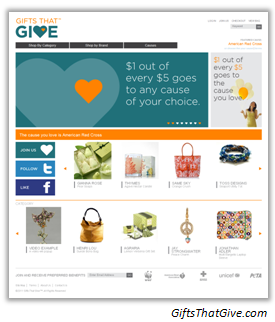 Cause-based commerce has become a popular trend in eCommerce over the last couple of years. Sites like
TOMS Shoes
and
ONEHOPE Wine
- both designed, built and launched by Guidance – have been extremely profitable while bringing thousands in donations to charities across the globe. And just recently, Guidance launched
GiftsthatGive.com
, where $1 out of every $5 goes toward supporting any cause of the customer's choice.
Looking for an updated look and a more stable and robust platform for their site, Gifts that Give contacted Guidance to provide technical design, development, hosting and eMarketing services. After reviewing the client's requirements, Guidance selected Magento Enterprise 1.9 as the eCommerce platform on which to build the site, and integrated it with several third-party tools and plug-ins such as uDropship for drop-ship vendors, Authorize.Net for payments, Facebook plug-ins for social features, and Network for Good to process tax-deductible donations. In addition As an expert in Magento website development, Guidance built a custom solution that integrates the website with Gift That Give's fulfillment house.
The new site features a wide collection of gifts – from jewelry, fashion accessories and handbags, to home décor, gourmet items, and memory keepsakes. Customers can choose to support any cause from within Gifts that Give's database of more than 1.2 million GuideStar-approved charitable causes. The amount of the purchase that goes to support the cause of their choice is automatically calculated and viewable on the customer's shopping cart (bag).
The launch was phase one of a multi-phased project for Gifts That Give. Guidance is already working on phase two and will soon come out with an announcement for this launch. Stay tuned!