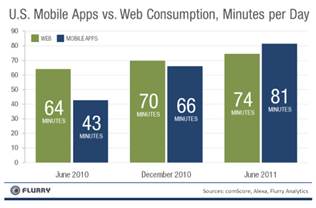 Years ago when the first email Blackberries emerged to offer us real time, mobile email, I found myself waiting for the "you've got mail" beep and eagerly checking it.
More often than not, I was receiving useless spam. But the Pavlovian response was clearly at work. I was addicted to my CrackBerry...
Since then, the Internet has taken off. I heard a report today that suggested that today's World Wide Web creates more data every day than all of the data created in history through 2003. The online experience is growing more ubiquitous.
And with the proliferation of inexpensive mobile devices (especially web enabled cell phones), my estimation is that half of the planet will be "connected" within 36 months. That's a staggering figure.
Also staggering is the notion that people now spend more time using mobile apps than they spend browsing the Internet. Mobile app analytics firm Flurry is releasing a new report today suggesting that users spend 9% more time using mobile apps than the Internet.
And when I think about how many times my iPhone jumps out of my pocket these days, I believe it. Games and social media apps like Facebook and Twitter are engaging users several times a day - all day...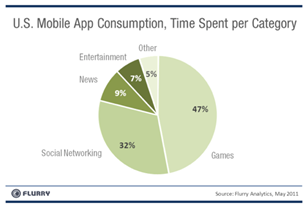 And with PC sales down, tablet and mobile sales on the rise, I suppose this shouldn't be too surprising.
ICANN is likely to announce the unleashing of a bazillion new Internet domain name extensions today. But it makes me wonder... At what point does the Internet become completely encapsulated by apps which offer richer functionality and a mobility we seem to enjoy more than the desktop/browser experience?
Maybe the web as we know it will one day go the way of the newspaper? Who knows... Gotta run. My New York Times just arrived...