There's no question that upgrading to a new eCommerce platform requires a significant outlay of both money and time. Retailers want to make choices that stretch their resources and yield the fastest possible return on investment. Today we're examining the cost and complexity of Magento 2 and addressing some common questions from merchants. It's the latest in our series on the platform and its features.
As you're sifting through facts and opinions, bear in mind that Magento 2 is in beta until January 2016, so very few development partners have actually explored the code. However, Guidance is one of an elite group of partners selected to test and improve the platform before its general release. We know, for instance, that Magento 2 includes a suite of data migration tools specifically designed to ease the transition. A quick look at our client SOL's Magento 2 website will tell you those tools are ready for action. Better still, there's a wealth of documentation and training materials available to support retailers along the way.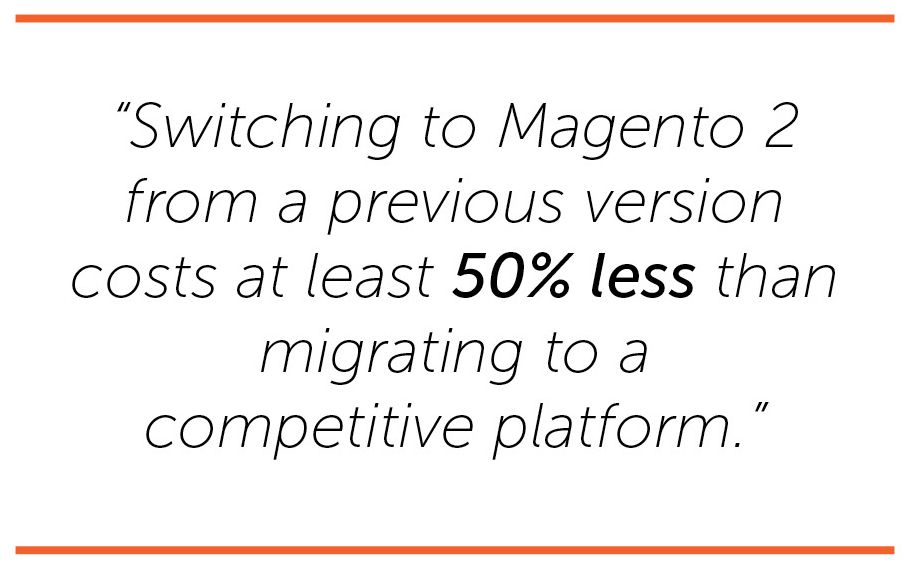 Upgrading to Magento 2 costs a little more than earlier versions, but that cost will be offset very quickly by the platform's improved performance. Also compelling: the company estimates that switching to Magento 2 from a previous version costs at least 50% less than migrating to a competitive platform. Budget-conscious retailers might wish to take that into consideration when making a software decision. It's also worth noting that choosing a previous release is only a temporary fix, since retailers who go that route will need to eventually move to Magento 2. From an efficiency standpoint, it's wise to pay for one license and one development cycle rather than two.
As with any re-platforming endeavor, the level of effort needed depends on project requirements. Choosing the right development partner makes a world of difference in terms of speed to market. If you're thinking of making a move, get in touch with Guidance. We believe in doing things right the first time, and we'll pair you with a team of experts who know how to use Magento website development to boost business and accelerate commerce operations.
Check back next week to read the final post in our five-part series on Magento 2.