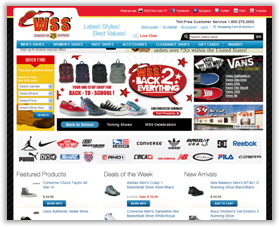 Seems like Guidance has found a sweet spot as the premiere eCommerce development firm for footwear retailers - first Foot Locker, then TOMS, then shoezoo, and now WSS!
WSS is a SoCal-based athletic footwear and apparel store. Founded in 1984, the retail chain started selling shoes at a local marketplace, as has now grown to 54 retail locations across the state, carrying popular brands like Adidas, Nike, Converse, Reebok, and many more.
The company is undergoing a rebranding initiative to attract a broader audience. They are heavily investing on all fronts – from new physical retail store redesign, to a brand new logo, private labels, and most recently, their redesigned website.
Guidance provided WSS with branding and strategic consulting services, visual design artwork, as well as some development work and staged hosting, to support their initiatives. This is phase 1 of a multi-phased project, where phase 2 will include an upgrade to Magento Enterprise 1.9, significant integration with new order fulfillment middleware, and additional design work, among other changes.
To learn more about WSS, visit their website at http://www.shopwss.com