Happy New Year! This edition of the Featured Employee of the Week is a special one – we flew over 6,000 miles to visit our Romanian offshore development team, based out of the beautiful city of Cluj-Napoca. Located in Eastern Europe, Romania has over 22 million habitants and is a recent member of the European Union.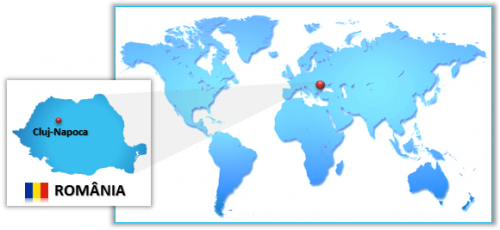 We asked the team to answer a few questions for us, check out what they said:
Names and titles, please –
Adrian Stanescu, Technical Architect
Mihai Runcan, Technical Architect
Adriana Lungu, QA/Project Coordinator
Bodgan Cupcea, Software Developer
Ramona Cuc, Software Developer
How long has the team been working with Guidance?
Almost a year! And about 8 projects completed so far.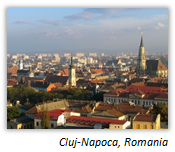 Tell us about your place of business.
Our office is located in the city of Cluj-Napoca. Known locally as Cluj, the city is the 'unofficial' capital of the historical province of Transylvania – yes, what the world knows as Dracula's birthplace.
Cluj has a diverse and growing cultural scene, and historically dates back to Roman times. Today, the city is an important economic center in Romania – much of the software/IT activity in Romania takes place in Cluj, which is quickly becoming Romania's technopolis.
How do you deal with the time/location/language difference?
Actually, being 10 hours ahead of Guidance's headquarters in California is an advantage – we don't spend as much time at meetings as others typically would, forcing us to bundle up all the time we would've spent in meetings into one hour, and focus the rest of the day on doing more productive work. The hour difference allows Guidance to offer 'round-the-clock services to its clients, and we're glad to enable them to do so.
Our team is fully bilingual so language has never been a barrier. They are even familiar with U.S. regionalisms as many of them have lived and studied in the states.
What tools do you use for transparency?
We use Skype for video, voice & text communication, Adobe Acrobat for screen sharing, Google Docs for document sharing, email for offline communication, and Mantis & Assembla for project planning and task & issue/bug tracking. We also provide scrum daily status updates to keep everyone up-to-date on what we've worked on. It's amazing what you can do with technology these days!
What do you like most about working with Guidance?
We enjoy the diversity of projects we work with, and particularly, the brands – most of which are well-known both in the U.S. and in Romania.