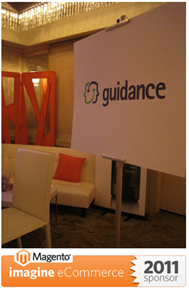 Great speakers, big news, awesome food trucks, new prospects, lots of fun … that pretty much sums up what happened this week at Magento's inaugural conference – Imagine eCommerce. Here's a quick recap of what went down at Imagine:
The conference kicked-off on Monday night with the opening event at the LAX Hilton. It was a pretty neat event with great music, sliders, ONEHOPE wine, photo booths, and all the essentials for a fun evening.
The next day, Guidance greeted over 100 attendees at our lounge area. As a conference sponsor, Guidance exhibited at Imagine's Marketplace, where we showcased one of our most recent Magento launches – ONEHOPEWine.com. Wine stoppers/pourers as well as bottles of ONEHOPE Wine were handed out our booth. Did you get yours?
Magento CEO, Roy Rubin, unveiled the company's newest product – Magento Go - at the event's first keynote. Magento Go is a hosted, SaaS service designed for small and emerging merchants. The platform was later demoed at a following session. Sessions by Nordstrom President Blake Nordstrom and Forrester Analyst Brian Walker were among the top-rated talks of the day.
Night two of the conference ended with a party at Magento's headquarters in Culver City. The event gathered together some of the best food trucks in Los Angeles, including In-N-Out, Fish Lips and Kogi BBQ. Food coma hit the Guidance team at around 10:30pm.
Wednesday was the last day of the conference, with sessions from Jochen Kirsch (ExcitingCommerce.com), Alfred Lin (Zappos) and Ryan Melamed (Easton-Bell Sports), among others. It was also the last chance many retailers attending the event had to meet with vendors like Guidance to learn more about eCommerce design, development and hosting services. We talked to over 150 attendees and made great new connections.
If you missed the event, check us out on Twitter (@guidance) to read highlights of the event. You can also search #magentoimagine to see all event-related tweets. Pictures of the event have been posted on our Facebook page.
We hope to see you at the next Imagine Conference!