(From eCommerceDeveloper.com)
Customer-loyalty-rewards programs have long been in existence among brick-and-mortar retailers, credit card companies and consumer-product manufacturers. Internet-based companies also offer rewards programs, and they frequently offer more flexibility for customers to accrue and redeem reward points.
According to a new report from Chief Marketing Officer (CMO) Council, "digital marketing channels are definitely taking precedence in ways marketers promote their loyalty and rewards programs." The report states, "nearly 60 percent rely on websites, nearly 60 percent on email."
Having custom-built rewards systems for our clients in the past, Guidance, which is my company, knows first-hand the complexities of this kind of development. That complexity also seems to have been Magento's thought a few months ago, and, perhaps, partially the reason behind the most recent upgrade (v1.7) to the Enterprise version of that powerful ecommerce platform.


Various Rewards Options; Easy to Manage

With over a dozen new features, including improved page performance, v1.7 lets online merchants implement customer loyalty programs based on rewards points, where customers can accrue such points from a wide range of transactions and other actions that can be easily managed by site managers through the backend.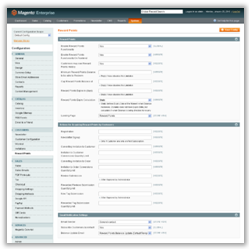 The Rewards Points System admin is straightforward and it provides the flexibility online merchants need to manage these types of programs. Site managers can set the minimum reward-points balance that customers must have in order to redeem them. They can also cap the number of points a customer can accrue, and set the number of days before their points expire. Site managers can also select which actions lead to point accrual, including:
Customer registration;
Newsletter signup;
Purchases and/or amount spent;
Review/tag submission;
Invitations.

Customers Can Monitor, Too

By logging in to "My Account," customers can see the number of points they have accrued to date, how many they can redeem and when they expire. Customers can redeem their points at checkout. In addition, site managers can modify balances, add and remove points, and acquire or spend points on behalf of customers.
The value of points is determined through a simple dual exchange rate: currency to points and/or points to currency. This feature works together with Magento's segmentation tools, as site managers can set different exchange-rate values per customer or group.


Conclusion

The CMO Council report estimates that marketers spend about $2 billion annually operating customer loyalty programs. With the addition of the reward-points system functionality, Magento Enterprise v1.7 makes it easier and more affordable for marketers, online merchants and site managers to operate these kinds of programs.