Digital tools are arguably the most empowering and disruptive force in economic history. Markets are being reordered-- and opportunities created—at an unprecedented pace. One consequence of this development is the emergence of an overriding business imperative—companies must deliver a great
User Experience (UX)
for their customers.
By now, B2B's of all kinds—be they merchants, manufacturers, or consulting firms--recognize the essential role that ecommerce platforms play in meeting the expectations of customers, employees, and suppliers. To acquire and retain loyal customers, engage employees, and encourage digital word-of-mouth, you must harness ecommerce tools to create an exceptional online experience.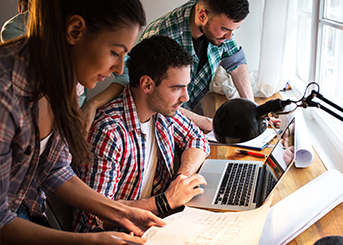 B2C Best Practices - Why they Apply to B2B
Web design has been evolving for more than 20 years. During that time, certain features of the online experience have emerged, which are now recognized as best practices. For example, today's users expect to have the so-called Netflix experience. That is, they expect to be able to enjoy their favorite entertainment on whatever device they happen to be using, be it mobile, tablet, or PC. They are also demanding quick, seamless, and hassle-free transactions.
The principles that apply to B2C experiences are highly relevant when it comes to B2B. After all, most businesses are consumers, too, and the same ease-of-use and intuitive experience Amazon creates is something virtually every customer expects nowadays.
Addressing B2B Shortfalls
In many instances, B2B ecommerce features are frequently lacking. For instance, B2B buyers often have trouble finding:
Technical support.

Price information.

Product reviews and testimonials.

Where to find, buy or ship.
However, B2Bs can address each of these shortfalls by adopting B2C best practices.
What are some of the Top B2C Best Practices that can be applied to B2B eCommerce?
Search and Navigation - Customers expect to find what they are looking for quickly. If the particular search engine your platform utilizes proves cumbersome, then the customer will likely abandon your site very fast.

Intuitive UX - Many B2B sites deliver a very clunky UX, which is becoming a huge downfall. In particular, B2B end users are increasingly utilizing mobile to conduct research, select product and service options, and place orders. If your site is not optimized to deliver a great UX—on all devices!—then your relevance in the marketplace diminishes.

Easy Checkout

- In the B2C realm, research by the

Baymard Institute

shows that consumers desert their online carts 68 percent of the time. The results hold true when it comes to B2B as well. In fact, in today's digital climate it's imperative for companies to streamline the checkout process. For B2Bs, ease-of-use for first-time orders, reorders, and bulk orders are essential. Likewise, the ability to handle multiple payment methods and different currencies is critical too.

Account Management - Online merchants need to manage many functions. Empowering administrators so they that they can easily supervise accounts, assign roles, and control permission is key to organizational efficiency, which enables agility in the marketplace.

Inventory Tracking - Being able to track inventory, at a glance, across multiple warehouses helps businesses serve their customers better. It also drives efficiencies in the supply chain.

Negotiated Price Terms - Part of UX is delivering a more personalized shopping experience. For the B2B, it is important to personalize each customer account with pre-negotiated price lists and terms. In particular, building on the basic promotional and segmented pricing that we see in B2C will allow B2Bs to take the practice it to a whole new level because of the ongoing and contractual relationship between the parties.

ERP Connectors - The free and speedy flow of information are critical to a business's success. When a company can automate and manage routine office functions by integrating ERPs and backend systems, then they can spend more time and resources being creative. B2Bs that can adopt the same best practices that have allowed B2Cs to seamlessly integrate ERP and backend systems will be at a competitive advantage.
Takeaway
Digital merchants need to realize that the same expectations for ease-of-use, convenience, and an intuitive interface, which have become best practices in the B2C realm, are increasingly imperative in the B2B sphere as well. The same laws of ecommerce now apply equally to both B2C and B2B. Digital tools that enable a great UX are the differentiator.
Contact Guidance
to help you apply the best practices from B2C commerce to your B2B site.