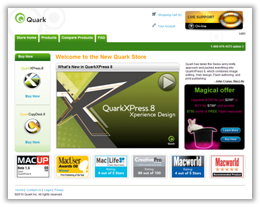 Guidance recently launched the new online store for Quark, the popular desktop publishing software manufacturer. The site,
http://shop.quark.com
, lets customers purchase and download Quark products online.
Guidance worked closely with Quark's in-house development team to provide visual design, technical design and development services. Quark will operate the site and retain the code that Guidance wrote, something they were unable to do with their previous vendor – a hosted solution – and one of the reasons they chose to work with us. By working with Guidance, Quark is saving over 75% of what their previous vendor used to charge them, delivering in the exact amount of time, and using one fifth of the resources their previous vendor required.
Typically, clients ask Guidance for assistance in selecting an eCommerce platform to build their sites on. But not this time – Quark knew what it wanted. After looking into several platforms, Quark selected AspDotNetStorefront for its many features – almost 95% of what the features they wanted on their site. The remaining 5% was customized by Guidance – an AspDotNetStorefront Enterprise Partner – including integration with Cachefly for software download, Avalara for sales tax calculations, EU service for VAT validation/calculation, and PayPal Websites Payment Pro for credit card transaction processing, while Quark managed the integration with MaxMind for GeoIP lookup. The site also required multi-store configuration, allowing Quark to serve different regions of the world in their respective language and currency, including stores in the UK & Ireland, Western Europe, Switzerland, Africa & Asia Pacific, Eastern Asia, and Japan.
To this date, the stores have been running on AspDotNetStorefront for about 6 weeks, and in such a short period, Quark's average transactions per day have gone up by 20%.
To learn more about Quark, visit their online store at http://shop.quark.com