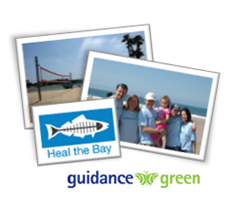 For the third year in a row, Guidance will be teaming up with Heal The Bay on its Annual Coastal Cleanup Day (CCD), Saturday, September 19th.
Guidance will be joining over 12,000 volunteers from all over Los Angeles who will take action to rid our beaches and inland waterways of unsightly and harmful debris. Coastal Cleanup Day is an international event with over 60 countries around the world participating, making it one of the largest volunteer efforts on the planet.
So join us at Dockweiler Beach (11999 Vista del Mar, El Segundo, CA 90293) on Saturday, September 19th at 9:00am. You'll see us with the light blue Guidance Green shirts. We hope to see you there!
If you can't make it to Dockweiler Beach, but would like to participate of Heal The Bay's CCD, sign up today at magento@guidance.com and choose from the list of participating beaches, rivers, parks, lakes, even creeks!
---
Catherine L.
Guidance