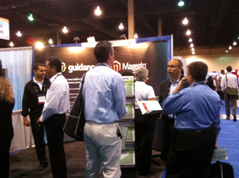 We have just returned from the 2009 Shop.org Annual Summit in Las Vegas, where Guidance teamed up with new partner Magento, the fastest growing eCommerce platform in the world, to co-exhibit at the show. Needless to say, we had a blast!
The show lasted three days, and by the time it wrapped up, we knew each other's elevator pitch better than we knew our own. So I thought I'd share with you a few interesting facts about Magento that I learned at the show:
Magento's Community version has been downloaded over 1 million since March 2008
Over 25,000 Web stores with over $25 billion in online revenue have been generated by Magento-engined stores -- second only to eBay
An open source platform, Magento counts with over 50,000 developers on forum
A number of new customers who have recently purchased Magento Enterprise Edition and which are scheduled to launch later this year include 3M, Skype, Nespresso, Nokia, Liberty Media, The North Face, and Samsung.
Pretty impressive, huh?
Want to learn more about Magento? Visit our Magento partner page at http:/www.guidance.com/magento or email us at magento@guidance.com.
---
Muliadi J.
Guidance