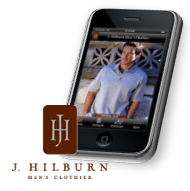 Known for being the largest custom shirt maker in the country, J. Hilburn is a luxury men's apparel company that offers high quality clothing and accessories by selling directly to its clients through their network of personal style advisors.
Recently, Guidance started working on J. Hilburn's new iPhone app. The app will showcase all of J. Hilburn's products, from shirts and polos to trousers and accessories. Users will be able to browse the product catalog by category, type and price, and create their shopping list by selecting items and adding them to their "wardrobes." Wardrobes can then be shared via email so users and/or their loved ones can shop for these items the next time they are online.
In addition, J. Hilburn's personal style advisors will be able to use the app to easily enter and save orders placed by their clients. Personal style advisors can be scheduled for a personal fitting and product presentation, at the client's home, workplace or any location and time that fits their schedule.
The app is scheduled to be released in September. To learn more about J. Hilburn, visit their website at http://www.jhilburn.com