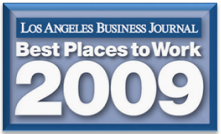 The Los Angeles Business Journal has once again recognized Guidance as one of the best places to work in L.A. We won this award last year for the first time, and couldn't be happier to win it again this year!
To qualify, nominated companies provided extensive detail on their workplace policies, practices, philosophy, systems and demographics. Company employees were also required to complete an anonymous online survey that measured employee satisfaction on a range of firm initiatives -- from corporate culture, role satisfaction and work environment, to relationship with supervisor, pay and benefits, and leadership.
Sixty-seven companies were recognized this year. Honorees were split into three groups: small-sized companies (15-24 employees), medium-sized companies (25-249 employees) and large-sized companies (250 or more employees). Guidance was ranked No. 35 out of 50 finalists in the medium-sized companies category.
This is a great achievement for Guidance, but it's even greater for its employees. For years we've been raving about working at Guidance, and our friends, family members and colleagues were a bit suspicious about such commotion. They probably thought we were exaggerating. Not anymore! The award is our proof – we do indeed work for one of the L.A.'s best places to work!
---
Alejandra E.
Guidance