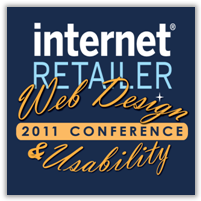 Greetings from Orlando, Florida! After a week of sessions and networking at Internet Retailer's Web Design & Usability Conference (IRWD), I've decided to stay and enjoy the warm weather in Mickey Mouse-land while getting some work done.
This is my second year attending the show and all I got to say is - when's the next one?! It is really great to meet and share information with professionals who go through the same design challenges you go through every single day. Here's a short list of highlights and top quotes from the show:
Don't fall into the trap of cloning the design of a market leader site. Apple.com isn't necessarily the best approach for your products.
Don't forget recurring customers! Many creative professionals tend to focus on first-time users when designing the site's user experience and ignore the return customers.
Follow the 10/90 rule. Spend 10 cents of every dollar on your Web site's analytics tool and the remaining 90 cents on a human analyst who can interpret and provide actionable items.
Retailers have five seconds to engage a consumer on a Web page, but only TWO seconds to engage them on a mobile site. Yikes.
51% of consumers are more likely to purchase from retailers that have a mobile-specific Web site, but only 4.8% of retailers actually have one. It's an issue of credibility. (Luth Research)
Four out of five multi-channel retailers do NOT have mobile-friendly site.
Shoppers who use the search field to browse for products are three times more likely to convert, and spend approximately 50% more per order.
Users seem to gravitate towards a grid-based design. Many people ignore secondary and tertiary navigation.
Great sites for UX design testing: Usertesting.com, Crazyegg.com, Fivesecondtest.com, Chalkmark.com and Userlytics.com.
What not to do for User Experience – LingsCars.com.
Hope to see you at the next IRWD!
---
Brett F.
Guidance