I found it ironic recently that our commitment to our planet (
Guidance Green
) has grown beyond our walls and into our homes, families and communities, yet our commitment to our health hasn't yet made it to ourselves, even as individuals. Why is that?
Why change our (green) behavior for some future payoff that isn't likely to occur in my lifetime while avoiding a commitment to my own health which I'm certain will have a huge payoff (at least for me)? I can help save the planet. I can also help save myself... and you... all at the same time.
Guidance's green program has taken root over the last 2 years. We have demonstrated to ourselves, our families and our communities that corporations can create awareness and lasting change for the benefit of our planet and our existence. Corporations can be green. And I also believe corporations can be healthy. Put them together... "Health is the Next Green."


A Day of Health
On Friday, August 21st, Guidance, Wellpoint, and the California Health and Longevity Institute hosted "A Day of Health," a program designed by Guidance and Wellpoint that creates awareness for employees, their families and their communities related to their health. A dozen guests made up of my employees and their spouses joined Jim McGee (a former Guidance alum and now a Wellpoint director) and me at the Institute for this amazing event.


The group kicked-off their afternoon agenda with an eye-opening presentation on "Stress and Its Impact on Your Health" by Dr. Steven Tan, MD, MTOM, LAc, Director of Complementary and Alternative Medicine for the California Health & Longevity Institute. Dr. Tan is one of the country's most comprehensively-trained integrative physicians, and has the rare distinction of holding medical degrees and board certification in both Western and Eastern medicine. He is also a National Institutes of Health-supported researcher in stress-related conditions, also known as "stress biology."
Dr. Tan helped us to learn about our stress response and our relaxation response. We looked at the importance of relaxation and sleep, and how both are directly related to many of the common illnesses from which many of us suffer, such as headaches, backaches, fatigue, digestive disorders and other diseases.


We then broke off for individualized nutrition and fitness consultations, as well as spa treatments. I had a fitness consultation with exercise physiologist Michael Brazeal, M.A. Mike and I talked about my existing fitness routines, diet, etc. He reinforced some things I was doing correctly and helped me tweak areas of my workouts and running that weren't quite right.
We then meandered into the gym too learn some new core exercise routines. Mike stressed the importance of using the bosu balls and the core stability balls, even in place of benches when using dumbbells and barbells. While I thought I was pretty fit and would breeze through his routines, the bosu ball exercises (especially when it was upside down) quickly made me look like a core rookie.
Once finished, I left with a new core workout routine, complete with beginner techniques and progressions for down the road.
A quick shower and I was off to the Wellness Kitchen for dinner...


The Wellness Kitchen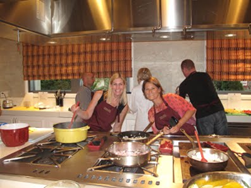 UTTERLY AMAZING!!! The Wellness Kitchen "experience" was the single best event I've had related to food, nutrition and cooking ... like ever! Paulette Lambert, Director of Nutrition at the Institute, hosted the Guidance group for three hours of learning, cooking and eating.
Paulette started us off with a great appetizer menu of lightly seasoned shrimp, edamame, and some other kind of bean. She served a delicious selection of white and red wine, and we all got into the healthy "mood."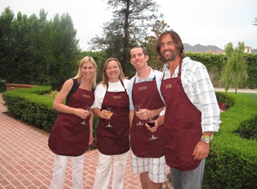 We were then each given a menu for a dish to prepare along with all the ingredients and utensils. The kitchen itself was like the set of Martha Stewart or something. It was huge! We also had 4 assistants running around behind us taking away all the messy stuff and prepping us with additional ingredients. Some of us learned how to chop veggies, stripe salmon on the grill and cook chicken in the oven. It was hands-on and mind-blowingly fun.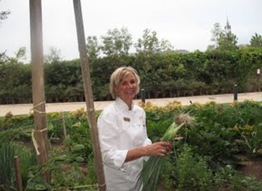 While the dishes were cooking, we all wandered out into the fresh onsite garden just outside the kitchen. We picked fresh onions, tomatoes, peppers and tons of other ingredients.
Paulette then called for dinner to be served and we headed to the huge dining table, set with linens and fine table settings. The dishes were served buffet style so each person could try any or all of the recipes.
During dinner, Paulette and the group discussed the advantages of a largely plant-based diet. We talked about using 3/4 of our dinner plates for fruits and vegetables and the remaining 1/4 for small pieces of chicken/fish and a healthy starch (in this case a lightly pesto'd pasta made with yogurt not cream). And we ended dinner with a healthy dessert that tasted like it had 10,000 calories in it (of course it did not).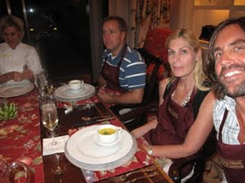 The experience itself left all of us thinking about how we think about food, nutrition, fitness, stress and relaxation. Many of us came away with a handful of small steps that we could implement the next day. For me, I've already started: a new primarily plant-based diet; a new core exercise program; a plan to have my blood ranges tested; and, last, eating far less chicken that I had before.
For my company, I'll be looking into getting sleep assessments done for the staff. I'll be encouraging employees to take their vacation days. And I'll be bringing in a meditation expert to train employees on how to stimulate their relaxation response.
"A Day of Health" for Guidance represents my first step toward a greater vision of health. A year from now I plan to walk into Guidance and see:
healthy snacks, no sodas and no vending machines with junk
no pizzas brought in for lunch
an empty office during the lunch hour where employees are out exercising or relaxing
BBQs for employees and their families with industry expert speakers talking about health; and
neighboring businesses joining us for healthy events, and working with people who are intentional about living longer and enjoying a better quality of life.
Health is the Next Green. And it's already started at Guidance...
Other pictures...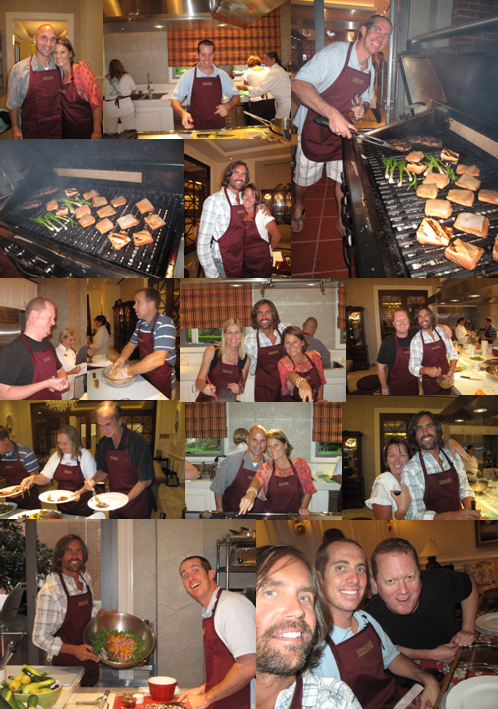 Check out our Facebook page for more pictures - http://www.facebook.com/album.php?aid=100019&id=11521514227
---
Jason M.
Guidance