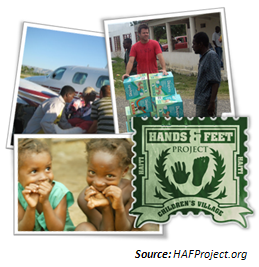 It's been one year since a devastating 7.0 earthquake struck the country of Haiti. When news about the impact and damage left by the earthquake broke at Guidance, employees gathered up to collect donations to help those affected by the seism. Our CEO, Jason Meugniot, knew just the right organization to donate the funds to – The Hands & Feet Project – and on behalf of Guidance, pledged to match every dollar donated to the organization by its employees, starting the campaign "Together for Haiti."
The Hands & Feet Project (www.hafproject.org) started in 2004 as a children's village in Jacmel, Haiti, and now cares for more than 75 orphaned children ranging between two months and nine years of age. Jason first heard of the Hands & Feet Project through former colleague and current Board Member of the organization, James McGee.
Funds from Guidance provided immediate and long-term relief to the children of Jacmel. The Hands & Feet Project remains the primary organization bringing relief to the town of Jacmel and has been an integral part in the supply chain, partnering with the Mayor of Jacmel and other orphanages in the village. The organization has sent many plane-loads of vital medical and shelter supplies, as well as diapers, formula, and a water purification system that is capable of providing water for up to 5,000 people daily.
The Hands & Feet Project is currently building more houses in order to help more children in the town of Jacmel. The organization is also hoping to replicate the same model in the community of Tipitapa, Nicaragua.