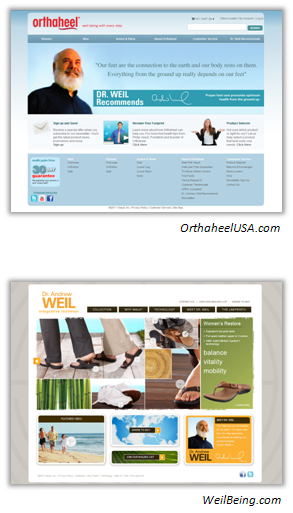 Two more Magento launches under our belt! Vasyli, a global company with a portfolio of leading brands, including Orthaheel, Dr. Andrew Weil Integrative Footwear, Vasyli Medical and VAS, hired Guidance to provide technical and development services for two of their sites – OrthaheelUSA.com and WeilBeing.com. Guidance also provided design support and advice on best practices.
OrthaheelUSA.com, which sells clinically-proven orthotic contemporary footwear, was upgraded from Magento Enterprise version 1.3 to 1.9. WeilBeing.com is the website for the foot-friendly footwear line from world-renowned Dr. Andrew Weil . The site - Dr. Andrew Weil Integrative Footwear - was a new Magento implementation. Both sites were integrated with LogOn, an ERP software package the company uses for warehouse inventory management.
With Ortaheel's and Dr. Andrew Weil Integrative Footwear's websites, the number of footwear merchandise sites we have worked on over the last 12 months goes up to 13! Here's the full list:
We are also currently working with one of the leading brands in sports footwear. More details on that coming soon.
Congratulations to the Vasyli team!