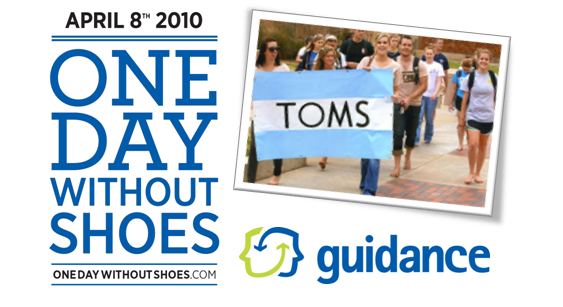 On Thursday, April 8th, 2010, Guidance is going barefoot and joining client TOMS Shoes on its One Day Without Shoes event.
Designed to help raise awareness of the impact that a simple pair of shoes can bring to a child's life, the One Day Without Shoes event has already received pledges from over 30,000 people who have vowed to go barefoot that day. Since 2006, TOMS has provided over 400,000 shoes to children around the world through their One for One™ movement – for every pair of TOMS purchased, the company will send a pair of shoes to a child in need.
According to TOMS, in some developing nations, most children grow up barefoot, which can lead to serious infections and diseases like Podoconiosis, causing extreme swelling of the feet. Podoconiosis is preventable by wearing durable shoes and practicing simple foot hygiene.
Guidance employees will be taking off their shoes and documenting their day to share their experiences as they go barefoot in the office. Comments, photos and videos will be posted on Guidance's Facebook page, http://www.facebook.com/pages/Marina-del-Rey-CA/Guidance/11521514227.
Last month, Guidance launched TOMS' new eCommerce site, www.TOMS.com, built on Magento Enterprise. The site was designed for the social media user, featuring live Twitter feeds, social merchandising, product ratings & reviews, and a photo gallery where users can upload pictures of themselves wearing their TOMS shoes. TOMS fans can also create and host a One Day Without Shoes event through TOMS' social website, http://my.toms.com, which Guidance built using Drupal's content management and social platform.
I'm going barefoot on April 8th, are you?
--jason