The Magento ecosystem offers a myriad of solution partners from which to choose when retailers are ready to implement their Magento store. To help make their selection process a little bit easier, Guidance has been granted FitForCommerce Verification status in the eCommerce System Integrator category, for our expertise with Magento Enterprise.
FitForCommerce provides tools and expertise that help eCommerce businesses articulate requirements, leverage best practices, discern market offerings, and choose technology solutions that best fit their business needs.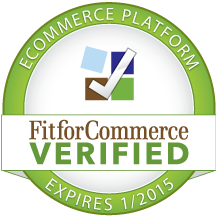 "We are proud to have received the FFC Verified designation for our Magento Enterprise expertise," said Jason Meugniot, CEO of Guidance. "FitForCommerce's independent and unbiased review will assist retailers who seek a quality Magento Enterprise partner," he continued.
FitForCommerce Verification or "FFC Verified" is a structured evaluation process by which a certified analyst reviews claims and proof points for pre-defined features and capabilities important to an eCommerce website and business. FFC Verification is a recognized industry standard evaluation method.
"Achieving the FitForCommerce Verification for Magento Enterprise is a great accomplishment for any provider," said Bernadine Wu, CEO of FitForCommerce. "We confidently granted this designation to Guidance based on their numerous quality proof points of Magento Enterprise."
Click here to learn more about our Magento Enterprise capabilities.