Once again, Guidance has Partnered with the Palos Verdes Peninsula Land Conservancy to help save the Blue butterfly, a small endangered butterfly native to the Palos Verdes Peninsula in southwest L.A. County.
The Palos Verdes Blue butterfly was thought to be driven to extinction in 1983 by development of its habitat. Then, in 1994, the butterfly was rediscovered at the Defense Fuel Support Point in San Pedro, which is located on the northern side of the Palos Verdes Peninsula.
Join Guidance Green on Saturday, December 5th from 9am to noon to help rescue the Blue butterfly's habitat by transplanting native seedlings of Lotus scoparius (common deerweed) for the butterflies to lay their eggs. This is a great educational volunteer opportunity for the entire family.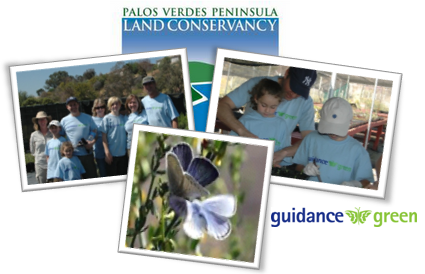 When: Saturday, December 5, 2009 - 9:00 a.m. to Noon
Who: Everyone
Where: Land Conservancy Nursery at 3171 N. Gaffey, San Pedro [Defense Fuel Supply Point (DFSP)].
What to bring: Nursery supplies will be provided by the Palos Verdes PLC. Please wear sunscreen, dress appropriately and bring a bottle of water.
What to Expect: The project is to transplant native seedlings at the nursery. Flats of crowded seedlings need to be transferred into individual, larger pots. It's a great project because volunteers can quantify the amount of good work they have put in and they're helping us propagate host/food plants that are an integral part of our PV Butterfly Habitat Restoration efforts. This will also help the threatened California gnatcatcher, a small gray bird that is on the endangered species list with the PV Blue Butterfly.
Signing Up: Please contact Catherine by Wednesday, December 2nd, if you will be participating and whether or not you will have additional adults and/or children joining you, along with their names.
---
Catherine L.
Guidance