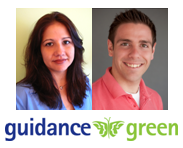 At every company, there are people who accept job offers because of good salary deals, great titles and roles, opportunities for growth, nice work environment, and other common reasons. At Guidance, there's a good mix of everything, but we also have employees who, above all other reasons, have decided to join the team because of one key factor: Guidance Green. Two of our recent hires have joined the green committee – Gabby and Ed.
Gabby is one of our Project Managers. A mother of two, Gabby likes to take her daughters to the recycling center so they understand how things are reused. She recycles at home, holds garage sales to give away things that are no longer useful to her (as opposed to throwing them in the trash), keeps scrap paper to give to her daughters for them to paint or color on the back, and has gone "paperless" with all of her bills.
When asked why she wanted to join Guidance Green, Gabby said "I want to be a part of Guidance Green to learn more about what it means to be green and to be motivated to treat our world better." She also wants to motivate and make others aware of what they can do to help the environment, which is one of the reasons why Guidance created Guidance Green. Way to go, Gabby!
Ed recently joined our Business Development team. He cites his passion for sustainability as one of the reasons why he wanted to work at Guidance. At home, Ed and his wife use all natural cleaning products, as well as area fans instead of energy-guzzling air conditioning units. When at the grocery store, they shop for locally-grown produce and bring their reusable bags to carry the items home.
Ed recently attended the U.S. Green Building Councils Summit on Sustainability in Phoenix, Ariz. The event is known as the largest green building conference in the world. Ed learned that when businesses put sustainability at the top of their business plans, it favorably impacts the organizations' overall behavior as well as their competitive advantage.
When asked what inspires you to be green, Ed mentioned a recent talk by statistician Nic Marks about the Happy Planet Index, which tracks national well-being against resource use. As Nic states in his talk, "a happy life doesn't have to cost the earth." You can check out his talk at http://www.ted.com/talks/lang/eng/nic_marks_the_happy_planet_index.html
Welcome to the team, Gabby & Ed!