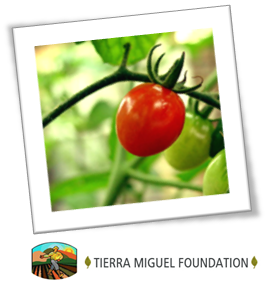 Our two committees, Guidance Green and A Healthy Guidance, have teamed up to offer a unique opportunity to all Guidance's employees and contractors who sign up to participate in a Community Supported Agriculture (CSA) program.
CSAs are communities of individuals who pledge support to a farm -- in Guidance's case, the Tierra Miguel Foundation -- so that the farmland becomes the community's farm, with the growers and the consumers providing mutual support and sharing the risks and benefits of food production. Members or "share-holders" of the farm pledge in advance to cover the anticipated costs of the fram operation and the farmer's salary. In return, they receive shares in the farm's bounty throughout the growing season, as well as satisfaction gained from reconnecting to the land and participating directly in food production.
Tierra Miguel Foundation will provide us with organic, locally-grown, seasonal, fresh and nutritous produce delivered every Wednesday directly to Guidance. The commitment per person is 10 weeks @ $250. Each week, for the $25 invested, each participating employee will receive a box of 15 pounds of a mix of produce, including vegetables, herbs, and fruits. This is a great deal for local, certified organic produce!
To learn more about Tierra Miguel Foundation, please go to http://tierramiguelfarm.org/
Here is to healthy eating!
---
Sam G.
Guidance