Kate Somerville, a leading skincare brand, set out to transform their existing digital presence so their customers could have a differentiated, meaningful and consistent customer experience across their site. Kate Somerville called on Guidance to help them deliver this vision to their customers. Guidance worked closely with the Kate Somerville team to redesign and build a best in class site, founded on best practices with custom features and functionality on the Magento Commerce Enterprise Edition platform. Shopping for skincare products depends on many factors like gender, age, skin type, ethnicity and any unique skin considerations so, as a result, Guidance recommended the Nosto personalization solution which gave Kate Somerville a very effective and efficient way to engage shoppers on a 1:1 basis. The new site was launched in 2017 and during the critical selling period, Black Friday through Cyber Monday, Kate Somerville recorded very impressive online gains such as:
121.02% YoY online revenue growth
26.62% YoY average order value increase
20.43% YoY average conversion increase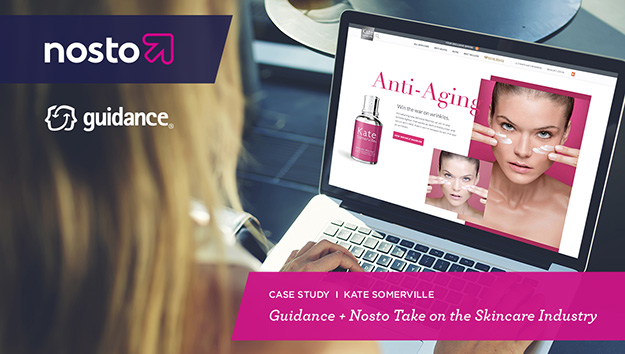 In addition, Kate Somerville was recognized as a finalist for a 2017 IRCE Excellence Award for Web Redesign of the Year in E-Commerce. What is most exciting, however, is that Kate Somerville is just getting started with much to look forward to in 2018 and beyond.
"Guidance is instrumental in the success of our ecommerce business. Nosto is just one of the many software solutions they've introduced us to that has made a big impact in our site's performance. I trust their expertise on all things digital."- Sarah Zylstra Skinner, Director of Digital Marketing, Kate Somerville
Click
here
to read the Kate Somerville, Guidance & Nosto Case Study.