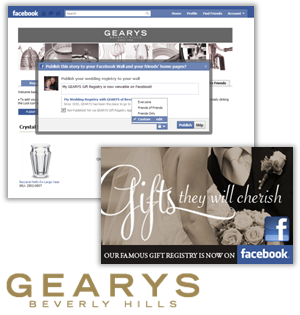 Most brides will tell you that the best part of their wedding planning was picking the items for their bridal registries. I wouldn't know myself, but that's what I've heard! So all you brides out there, we've got good news for you!
Known for its unparalleled collection of wedding gifts, dinnerware, silverware, and exquisite jewelry, GEARYS of Beverly Hills - a Guidance client since 2007 - has been a symbol of luxury among Hollywood celebrities and A-listers since 1930. Its popular bridal registry has held the wishlists of hundreds of famous couples, from . well . we have to respect their privacy.
This week, Guidance launched GEARYS' new Facebook application, which allows brides to share their registry and selected items with their friends on Facebook. Brides can also give their friends and family access to view and shop within their registries. The app helps promote the GEARYS site to a whole new audience and drive traffic back to the site to view products and complete purchases.
For more information or to create your own GEARYS Gift Registry, visit http://www.gearys.com The new application is available on Facebook at http://apps.facebook.com/gearysgiftapp/