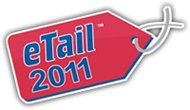 There are only a handful of shows and trade events that are truly focused on the eCommerce industry, one of them being the eTail West Conference. This year's conference - held in Palm Springs, CA last week - brought together top-notch thought leaders, innovators and game changers in the eCommerce and retail space for a week of sessions and networking.
In case you missed the conference, here are a few highlights from some of the sessions:
Day 1
Session
Moving Beyond Internal Challenges to Create Effective Multi-channel Experiences
Ron Boire, President/CEO Brookstone
Sheryl Clark, President and CEO, Boston Proper
Mark Piece, CEO, MarketLive
Notes
Retailers must integrate their eCommerce division into the rest of the company; it cannot be a separate silo group.
Companies that focus on channels individually seem to struggle with multi-channel experiences. Internal battles arise with who gets credit for sales (store, Web, catalog), instead of leveraging a shared revenue system.
Social is a strong commerce channel and is changing the multi-channel experience.
Facebook's "Like" system acts as the new email address to connect with customers and prospects.
Mobile is becoming a key driver of multi-channel commerce.

Session
Foresee Results Executive Presentation (2010 Holiday Shopping Season)
Larry Freed, President and CEO, ForeSee Results
Notes
Best Buy has been tracking in-store purchases made by social media users. While 1% of shoppers attribute their purchase solely to social media, 18% said it has influenced their purchase.
47% of shoppers research items before doing an in-store purchase. Of these shoppers:

30% used their mobile phones to research
15% compared prices to the ones in-store
11% made a purchase

The American Customer Satisfaction Index's annual eCommerce Report, produced in partnership with ForeSee Results, shows that customer satisfaction with eCommerce websites is down 2.6% to 79.3% on the ACSI's 100-point scale, its lowest score since 2004.

10,000 users participated in the survey.
Satisfaction was evaluated across 40 of the leading eCommerce websites.
Amazon and Netflix led the pack with 86% satisfaction rate.
Price, merchandise, and functionality are leading indicators of customer satisfaction.
If 80% of customers are satisfied, 61% are willing to buy again or recommend.
Satisfaction drives conversation, loyalty, revenue.

You can't manage what you can't measure. What you measure determines what you do. Measure what matters most – customers.

Session
Navigating the Retail Rapids
Tony Bartel, President, Gamestop
Notes
Digital explosion is coming and traditional retail for digital goods companies is slowing.
Multi-channel is critical for the gaming market – eCommerce/online, Social (Twitter Facebook, etc.), Mobile, Stores, etc.
50% of Gamestop shoppers research online before buying in-store.
YouTube and Facebook are some of the largest drivers of Gamestop's customer base.
14% of Gamestop's transactions are made over a mobile device; that number is expected to grow to 50%.
Customers who are enrolled in Gamestop's loyalty program account for 25% of the company's revenue.
Personalized communications have helped increase customer loyalty rates for Gamestop.

Session
The Future of Mobile Commerce & Consumer Experience
Pedro Santos, Chief Strategist, eCommerce, Akamai
Notes
Akamai has seen a 300% increase in mobile traffic over the last 3 years.
The mobile consumer is different; they are on the go, distracted, available, and device-engaged.
The most common shopping-related uses of mobile phones are to find a store, compare prices, read reviews, and do product search.
Across Akamai's customer base, 1 to 1.5% of sales are done via mobile phones.

Session
Content Marketing, The Right Conversation at The Right Time
Deanna Brown, CEO, Federated Media Publishing
Notes
2011 Retail Social Customer Service (available at http://www.forrester.com/etailwest)
Forrester's research demonstrates that 70% of online consumers expect superior online customer service.
Forrester estimates that unnecessary service costs to online retailers due to channel escalation are on average $22 million.
Companies are using Twitter as a customer communication tool and implementing Twitter support feeds

Day 2
Session
7 Habits of Highly Effective E-mail Marketers
Stephanie Brocum, VP Direct Marketing, Retail Convergence/Rue La La
Laura Saati, VP Retail Practice, e-Dialog
Notes
When it comes to effective campaigns, listen to your customers, don't shout at them.
15% of Rue La La's sales come from mobile; Rue La La launched its mobile solution in 2009
7 habits:

Be timely. Timing is everything.
Be empowering. Engage the user with preferences and user types, reminders.
Be helfpful. Make it easy for your customers to communicate with you. Offer customer service support via email, Twitter ("Rue La La Concierge"), Web email forms, etc. Rue La La emails customers products they missed in their last sale.
Be educational. Send emails to users with information such as "how to use the site." Rue La La educates their customers on how to take advantage of their private sales.
Be exceptional. Surprise customers with bonus types of product, sale, offerings, etc. so users look forward to your emails. Do something special for your best members (customers).
Be unique. Customers should feel you are always providing them with a unique experience. Your offers should be unique. Campaigns should also be special, not some random percentage off, like the average retailer does.
Be transparent. Be genuine, open, and sincere to customers/members.

Session
Maximizing Your Resources and Gaining Revenues in Today's Multi-Channel Environment
Julie Krueger, SVP, eCommerce & Direct, OfficeMax
Freeman Zausner, Chief Administrative Officer, Urban Outfitters
Jonathan Opdyke, CEO, Hooklogic
Notes
Sell to your customers seamlessly, whether it is via mobile, online, or at your retail space.
Retailers should not allow their channels to conflict – all internal divisions must share in revenues.
There should be visibility across all channels. Customers will look elsewhere if it is not provided, even if they still buy from your store.
Users will find review sites, competitors, and your site for research.

Session
ATG Executive Presentation
David Dorf, Sr. Director of Technology, Oracle
Notes
Mobile is connecting the channels; mobile is the glue for cross channel retailing.
Uses of mobile phones for shopping-related activities:

38% use it to find a store location
35% use it to search for the lowest price
13% use it to purchase the last 1x month or more
9% use it to redeemed coupons

Uses of mobile phones for shopping-related activities while in-store:

16% use it to compare prices against competitors
10% use it to visit the store's website
7% use it to look for coupons
6% use it to look for product availability (in stock)
6% use it to read reviews
4% use it to request feedback
2.4% use it to complete a purchase

Store associates must be as knowledgeable as the consumer with access to the same information, regardless of whether they use an iPad or a smartphone.
Oracle sees the "mobile commerce wallets" as the future. It allows users to send currency transactions to the point of sale system using their mobile phones. The system would operate like the iPhone application "Bump", allowing users to bump their payment to the merchant.
ATG's mobile commerce solution allows for "shared cart". Search, browse, select, add to cart, etc. and complete transactions either over the phone or online at home.

Session
The ROI-Based Birth of Fossil Mobile
Philip Thompson, VP Marketing and Operations, eCommerce, Fossil
Notes
Mobile traffic to Fossil.com was greater than Web traffic during 2010's holiday shopping season.

Day 3
Session
Mobile Best Practices Within A Multi-Channel Framework
Thomas Parkinson, Co-Founder SVP/CTO, Peapod
Notes
Peapod is an online grocery shopping & delivery service with a successful mobile app.
Peapod's team did not want to build a Web-based iPhone or Android app for mobile users; instead they created a hybrid solution - container app and HTML5. Benefits of the solution include:

Runs on all mobile devices, despite being only one solution.
If changes are required, the tweaks are minor.
Standard web analytics also work with the solution.

Some of Peapod's site statistics:

10% of visitors are using their mobile phones to access the site
22% of visitors that come to the site convert (complete a transaction)
20% of Web visitors convert (complete a transaction).
iPad users purchase more (an average of $18.05 more per transaction).
Users who access the site via Web and mobile devices purchase more - an increase of $23.00 per transaction.
iPad sessions are longer than web sessions.

Session
The Power of PayPal's Mobile Express Checkout
Notes
eBay (which popularized PayPal as the preferred method of payment for its transactions) has sold four (4) Ferrari sports cars via mobile devices.
In 2010, PayPal processed over $750 million in mobile transactions.
Currently, PayPal processes $5 million per day in mobile transactions.
PayPal has noticed that mobile conversions have been significantly higher than Web conversations.
It is PayPal's goal to enable payments across all devices -- mobile phones, TVs, appliances, tablets, computers, navigation systems, video systems, video games, electronic readers, etc.
By 2020, there will be 50 billion connected devices globally.

Session
Driving Sales and Getting Returns on Your Social Media Strategy
Valerie Hoecke, VP, Digital Experience and Commerce, Benefit Cosmetics
Annemarie Frank, Director eCommerce, Digital Media & Strategic Alliances at mark, Avon
Christian Taylor, Founder & CEO, Payvment
Notes
Sites like Facebook, which facilitate social commerce, are a great marketing tool to acquire new customers. Once they buy from you for the first time, they will buy again from you regardless of channel – online, mobile, retail store, etc.
Smart phone users account for 30% of the population – a good reason why retail companies should create apps and browser-based mobile experiences.
iPad mobile users register longer sessions than non-iPad users. The reason? They surf on the couch while watching TV.
10% of searches today are performed on mobile devices.
A retailer's mobile strategy must be unified – with search, ad networks, and Web site or host.
Mobile app usage stats:

26% of apps are never used again after the first day
95% of apps are never used again after first month

Top 3 devices dominate 40% of traffic and over 2,500 additional devices generate the additional 60%

In-store mobile usage stats:
90% access the mobile Web
58% use the phone for research or to look for coupons
43% make a purchase after researching

Mobile Web drives in-store purchase; however, mobile apps and mCommerce drive direct revenues.
An app-only strategy is risky.

Hope to see you at the next eTail Conference!
Mike