The creative process is not something that happens by magic, or on its own. The artist Vincent Van Gogh said, "Great things are done by a series of small things brought together." In other words, if your company wants to accomplish something really amazing, place focus on the smaller, incremental steps which lead to realizing a final creative vision.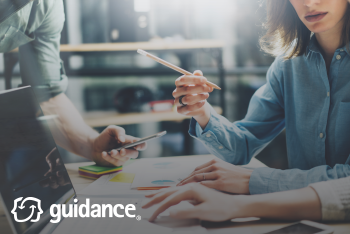 Guidance
, an industry leading digital commerce agency based in Los Angeles, has been on the forefront of digital commerce for twenty-five years and has developed proven design methodology for brands and retailers to differentiate themselves with innovative and cutting edge design, allowing for a highly functional digital commerce experience that eliminates friction and drives conversion.
Design Discovery
It all starts with creative discovery. This phase is designed to surface company, product, user, and brand information that will be critical in creating a custom,
state-of-the-art-experience
for your customers. Guidance recommends the following:
Creative Questionnaires. This tool solicits detailed information from clients that help us understand their business and their goals. Topics of inquiry include feasibility plans, demographics, market research, seasonal activity, and unique products that require a different type of shopping experience. It's okay if a client can't answer every question at this stage--our aim is to get the conversation going.

Customer Interviews. Here, our goal is to better understand a client's customers (particularly their most loyal fans). It's important to get a sense of the different types of consumers you attract and their experience with your brand, as well as to understand opportunities with potential new users. Normally, we can get this information at a fraction of the cost of a big agency.

Stakeholder Interviews. We believe in spending quality face time with executives who have a stake in this process. This phase helps us understand business goals while establishing structures for good communication. It is critical for us to give all the stakeholders a feeling of confidence when it comes to our joint efforts.

Competitive Landscape Analysis. During this stage, we examine current trends, market leaders, and direct competitors in the client's field. Understanding how our client is positioned in both the current and emerging market environments helps us determine how to best meet the client's key business goals with our creative strategy.

Creative Audit. This step involves analyzing what a client is doing right (and wrong) under the present circumstances. If a client can't do a full redesign, we may suggest they make some necessary adjustments based on priorities identified in the audit.

Google Analytics Review. You can't fix what you don't measure. Analytics give you the insight into website performance, customer activity, and emerging trends. A detailed review gives you an indication of where a business needs to up its game.

Visual Heatmapping. This tool shows how visitors are visually interacting with your site and apps. Being able to see graphic representations of the elements that are receiving the most (and least!) user attention helps businesses optimize.
The Guidance Advantage
Guidance uses a very seasoned team of design and UI/UX experts which includes a creative director, an art director, visual designers, usability experts, and content & copy professionals.
Experience has taught us that visual design and usability are two different skill sets and should be separate, collaborative efforts. This is something that differentiates Guidance from other digital agencies in e-commerce, in that our process relies on the coordination of deeply specialized professionals rather than designers in hybrid roles.
As our UX experts lay the groundwork for site structure, taxonomy, hierarchy of content & functionality and conduct any necessary user testing, our visual designers are crafting a visual language system which marries aesthetic brand standards, marketing goals, user needs, device parameters, and e-commerce best practices. At Guidance, we like to say that the final product looking beautiful is simply a byproduct of executing our process to perfection.
Optimized for Every Screen Size
Today, your website has to provide a great experience for every device. Many developers are taking a mobile-first approach since this streamlines the development process. Because real estate is at a premium on smaller screens it can also help designers isolate the most crucial elements in an interface. But companies still need to consider how layout and content will expand to accommodate the desktop experience, where a considerable amount of purchasing still takes place.
Guidance helps clients understand the big picture so that their brand's experience translates optimally across every device (mobile, tablet, desktop, and the many viewports in between). Then, often using
A/B testing
and heat mapping, Guidance makes sure that a client's site is set up for success and will deliver results that can scale.
Takeaway
At Guidance, we believe that extensive preparation lays the groundwork for the imaginative breakthroughs that ultimately transform business.
Guidance
is proud to have helped many iconic brands reach their creative potential and we're honored for the design awards we've garnered along the way. We recognize that e-commerce is not just about looking good--It's about helping clients achieve tremendous growth in revenue. To learn more about our creative process, please
contact
Guidance.