by Brian Beck, SVP of eCommerce & Omni-channel Strategy
Calling all brands and retailers - the stakes are higher than ever. According to Morgan Stanley, Amazon is now the second largest apparel retailer in the United States! Just this past week, Macy's (M), Kohl's (KSS), Nordstrom (JWN) and JC Penney (JCP) all saw their stock prices plummet as they missed expectations, while digital commerce focused firms like Amazon continue to outperform. According to the FactSet Census' April 2016 retail sales report, department store sales fell 1.7% year-over-year, while non-store retailers surged 10.2% in the first Quarter of 2016.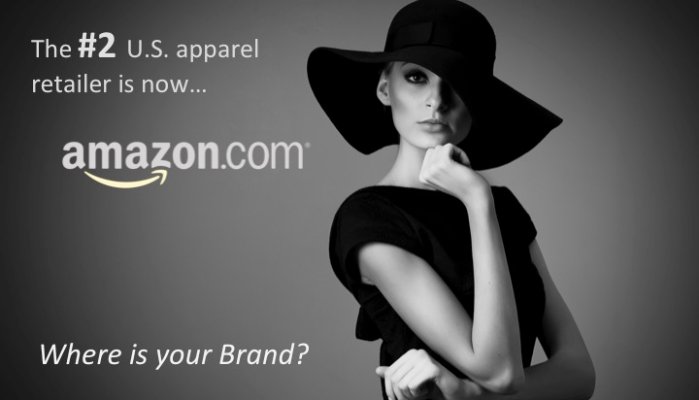 There is tremendous pressure on brands – including in fashion, apparel, and accessories – to get off of the endless markdown cycle and drive higher levels of engagement with customers using digital. It is differentiate or die.
For those of you who missed Fashion Digital LA last week, there was lots of great content shared that you can use in your business immediately to put yourself in a better position to compete. I was privileged to share the keynote address on Tuesday morning with Rick Kenney at Demandware, a great mind and one of our key partners at Guidance.
Following are four important trends you should be paying attention to and reacting to.
The Mobile Shopping Cart is Unifying Commerce – Rick shared that the number of online shopping carts created has increased by 70% in the past year, and much of this is driven by mobile. Mobile carts are the new wish list that connect online with offline, and are a clear sign of shopping intent. You will benefit if you recognize this, and can deliver a way to ease conversion of those carts – regardless of channel – in store or perhaps for online purchase later on desktop. According to Bronto, 73% of online shoppers use their shopping cart to store items to buy later.

Capitalizing on this, one of our clients, Johnny Was, saw a 14% increase in conversion rate on their web site by enabling triggered shopping cart reminder emails that linked directly back to the cart. Simple, yes, but effective. Leading retailers are taking this to the next level by enabling mobile cart lookup in store with POS or other clienteling apps. Ease the friction!
Modernize your Organization to Address Mobile – Silo'ed organizations that focus only on single transactional channels like Ecommerce or Stores continue to persist, and are not well structured to handle the mobile usage explosion. We recently surveyed more than 20 leading brands and retailers on their org structure and how they are managing mobile marketing, merchandising, and web-related processes. We found that the leaders are first understanding their customers' needs on mobile at every moment that matters through the customer journey. They do this through customer research (yes – talking with their customers - surveys, store intercepts, focus groups, etc.) They then shift their organizational structures to create roles focused on mobile, are rewarding web merchants for sales across all channels (not just online conversions), and have adjusted merchandising processes for mobile.

We find too many organizations with something we call 'DOD' - Desktop Only Disorder. I am being tongue in cheek here, but the point is that your web merchants need to start using mobile in their every day merchandising work activities. Get out of the habit of doing everything on desktop, and start looking at what you are showing customers on their smartphones! As a bit of shameless self promotion, we provide customer research for our clients, and then help them implement change in their organizations, which is one of the reasons our clients are ahead of the curve here.
Site Search is the New Battleground - A recent Bloomreach study indicated that more nearly half of product searches are now beginning on Amazon – not on your site. You heard me, you are becoming irrelevant (try telling that to a room full of Fashionistas! I'm surprised I didn't get booed off the stage.) To address this, it is critical to update your search and site experience to be more relevant. And the devil is in the details. During our presentation, Rick shared that more shoppers are searching (8.7% of shoppers on Demandware sites in 2016 vs. 7.8% in 2014), but conversion rates remain stagnant (no growth over the same period).

One retailer that has gotten into the weeds to improve their online results is one of our clients, Charming Charlie. This company built a successful 350+ store chain centered on connecting with customers through dramatic color merchandising experiences in their stores. By bringing their color merchandising story to life online and in mobile by using dynamic search landing pages, they are seeing much higher engagement rates. The results are evident - the company has increased conversion rates on mobile by 80% year over year.
Digital can Drive Results Across all Channels by Eliminating Friction – While mobile visit time is decreasing dramatically, down from 8.2 seconds to 7.4 seconds just in the past 12 months (I'm quoting Demandware here), progressive merchants are getting better at using mobile to deliver what the customer needs quickly and reaping benefits. A great example is Pura Vida, a high-growth retailer of hand made bracelets and accessories with a ton of millennial (read: mobile-only) customers. By integrating with Google Maps to auto-populate address fields in mobile checkout, they are getting high single digit conversion rates. How many of you would love to have those numbers? Get rid of the friction.

Robert Graham, another of our clients, created a way for customers to earn loyalty points on purchases through any channel (e.g. Nordstrom, Neiman Marcus, etc.) - not just the company's web site or company-owned stores. They are eliminating friction and keeping the customer loyal to them, not buying through Amazon.

Another example are our friends at Charming Charlie. They changed the way they thought about promotions last holiday. The company used affiliate partners such as Retail Me Not, who maintain mobile coverage over every one of Charming Charlie's retail stores, to push offer notifications via mobile to potential customers as they entered the mall parking lot. Digital distribution of promotions enabled them to be top of mind at this moment that mattered, and drove millions in sales and thousands of new customers to the brand.
By removing friction from purchasing, understanding how to operate in channels that are under others' control, and focusing on mobile, you too can compete. We would love to help you achieve double and triple digit growth numbers, like many of our clients enjoy.
Good luck out there!