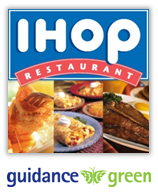 My foray into Guidance Green started with the promise of an IHOP breakfast. As I enjoyed my blueberry banana nutty grain deliciousness at the Guidance Green Committee meeting in late January, I learned a few things.
For example, you can recycle batteries here at Guidance. As a matter of fact, we'll recycle all your household eWaste and hazardous materials - oil, paints, pesticides, electronics and more. I've been wondering what to do with this bag of old CFL light bulbs. Now I know, and I'll be bringing them by here soon. There's a full list of things you can recycle above the mail cubbies in the kitchen.
There is a Guidance Green section on Guidance Connect (Guidance's Intranet), and a section on the Guidance website. Both of these pages have great information about reducing environmental impact, individually and as a company.
Guidance Green's fourth anniversary is coming up in March. Guidance made a commitment to reducing energy waste, reusing items, recycling as much as possible and expanding the Guidance Green mission into the community back in 2007. Check out this blog post by Debbie to learn more about our upcoming anniversary event --
Guidance Green Turns 4!.
I am excited about being part of Guidance Green. As a member of the Guidance Green committee, I can offer ideas to help make Guidance as environmentally-friendly as possible. Working for a company that has this kind of philosophy is important to me. If you would like to be a part of Guidance Green, just drop us a note at green@guidance.com. It's a chance to do some good things and - if you are lucky - enjoy some pancakes.
---
Rachele M.
Guidance