Apparel eCommerce accounts for 17% of all U.S. online retail sales. Sites like Johnny Was, Robert Graham, and Sole Society, all apparel sites developed and deployed by Guidance, are converting browsers into buyers and reaping the rewards of their optimized sites.
MomoBaby, the children's and maternity apparel eRetailer, recognized that it needed to upgrade its Yahoo store to a more robust platform and redesign its site to better compete in this vertical, and provide a more captivating shopping experience for its customers.
Guidance partnered with MomoBaby and delivered a responsive Magento Enterprise 1.13 site, reflecting a refreshed and modernized brand.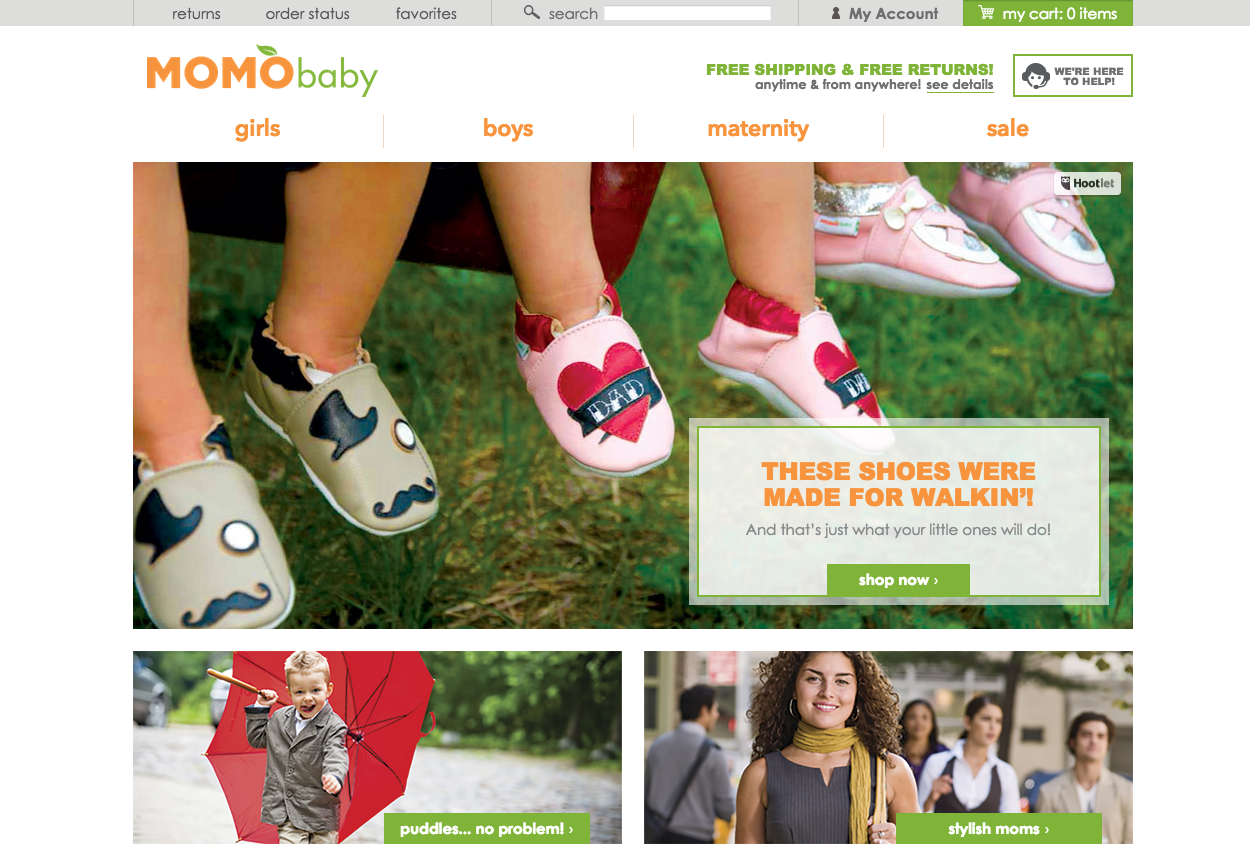 The new site was optimized and designed to convert browsers into buyers:
The new home page provides multiple promotion opportunities.
Mega menus with product images and iconography make categories and products easy to find.
A foot measurement guide assists buyers when purchasing children's shoes.
Customer service contact information (email, telephone and live chat) is highlighted with iconography, to help shoppers overcome any hesitation.
Product search is made easier with autocomplete; shortening the length of time shoppers have to spend searching for products, the search field provides several category and product choices based on their input.
Momo Maternity, another MomoBaby brand, was also incorporated into the site as a "Category" in the top nav. Also found at www.momomaternity.com, our Creative team designed its distinct branding (logo and colors) to distinguish it from the MomoBaby portion of the site.
Guidance integrated the multi-storefront Magento Enterprise 1.13 site with Bronto (email marketing), Facebook and Instagram (social sharing) Google Analytics, PayPal Payflow (payment gateway), and Zopim (live chat); and also, linked it to MomoBaby and MomoMaternity's wholesale marketplaces on NuORDER.
Guidance shortened the path to purchase on the Category page with two solutions:
"quick view" allows customers to select "color", "size", "quantity" to either "add to cart" or "add to favorites"; and,
a "compare" button enables shoppers to review multiple attributes across products to determine which, or both, to "add to cart" or "add to favorites".
The "Sale" category dynamically populates based on those flagged as such in the admin interface.
Congratulations to MomoBaby and the entire Guidance project team on such a gorgeous and high-converting site!