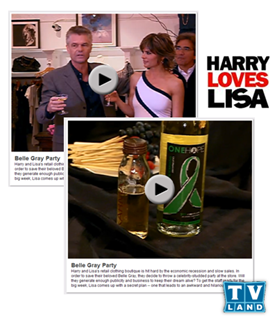 We'd like to think they met each other through us, but that wasn't the case. Still, it's great to know that our clients support each other's brands – this time, Belle Gray and One Hope Wine!
Just recently, Guidance started working with new client One Hope Wine, which donates 50% of its profits to partner charities through its cause-specific varieties of wine. One Hope Wine's newly redesigned and redeveloped site – built on Magento Enterprise – will launch in November.
Guidance has been toasting to One Hope Wine's exquisite variety of wines at recent events, and at their store's anniversary party, another of Guidance's clients – Belle Gray, a clothing boutique owned by actors Lisa Rinna and Harry Hamlin – celebrated with One Hope Wine's Sauvignon Blanc, which benefits the American Forest Foundation. This wine selection is hand-crafted in partnership with Rob Mondavi Jr. from select vineyards in Napa Valley, Sonoma County and California's Central Coast. Due to its grassy and herbaceous notes, One Hope Wine saw a perfect pairing with the environmental cause that the American Forest Foundation supports.
Lisa and Harry are seen toasting at their event on this week's episode of their TV Land show, Harry Loves Lisa. If you missed this week's or any previous episode, you can go to TV Land's website to watch them online – http://www.tvland.com/shows/harry-loves-lisa/full-episodes/
Stay tuned for updates on One Hope Wine's website, live this November. To learn more about Belle Gray, visit their online store at www.bellegray.com