Are abandoned carts, truly abandoned? Are customers leaving sites because of pricing, performance or search? What are the most frequently searched apparel colors?
These questions and more will be answered at Fashion Digital Los Angeles 2016, held at the W Hollywood, during our keynote address "Carts, Conversion and Commerce – The New Now!" on Tuesday, May 10, 2016 at 9:20am.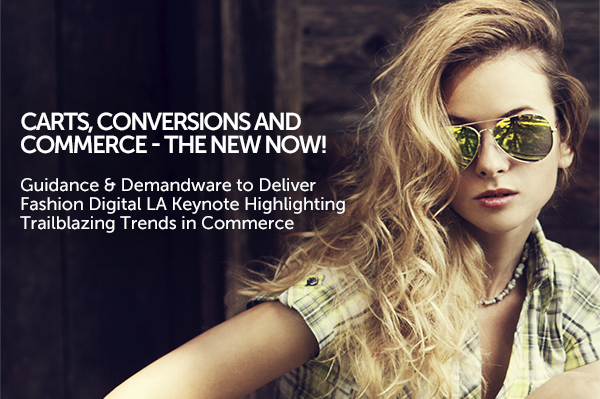 Guidance, in partnership with Demandware, will co-present commerce trends every fashion merchant should know, including:
Mobile commerce has arrived and is trending towards "mobile only".
Mobile devices have become the "digital hub" for brand interactions.
Mobile carts are unifying commerce:
--"Add to Cart" rate is up 10%; Increase in carts created is up 70%.
--73% of online shoppers use the shopping cart to store items to buy later.
Site Search is broken; Almost half of all shoppers search for products on Amazon.com, first.
Site Search usage is growing but efficiency is stagnant:
--In 2014, site search was 7.8% of traffic, 18.5% of orders with conversion at 2.4x; In 2016, site search was 8.7%, 21.2% of orders with conversion at 2.4x
These trends and more highlight the "Democratization of Retail". To meet shoppers expectations, merchants must position their brand in new channels and remove friction from marketing, search and conversion.
Guidance will be on hand throughout the conference to discuss strategies and tactics to meet and exceed consumer eTail, retail, and omni-channel commerce objectives. If you are interested in attending and meeting with us at Fashion Digital Los Angeles, or receiving a copy of our keynote presentation, please contact us.
And, by the way, the most frequently searched apparel colors are black and white.