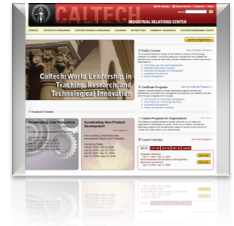 I have worked at Guidance for almost 2 years and one thing's for sure: we love our clients. But here's the best part: they love us back. One of those clients is the Caltech Industrial Relations Center (IRC).
A Guidance client since 2007, Caltech's IRC provides outstanding educational programs for executives and managers of renowned technology-oriented companies. Last year, they asked Guidance to help them rebuild their website, which we gladly did. The new site - http://www.irc.caltech.edu - incorporates features familiar to online customers – like product recommendations and "peek inside" capabilities – along with Web 2.0-inspired applications like a dynamic calendar. The redesign has helped Caltech IRC more actively cross-promote its courses to its audience of executives and managers of technology-driven organizations. The site was launched in July 2008.
As the Technical Lead for the project, I got to work closely with the client. How close, you ask? I ended up enrolling in one of their programs, courtesy of Caltech! The Caltech IRC 10-Day Project Management Certificate teaches technical professionals how to master the critical skills of project management techniques that can be applied to large and small projects, product design and development efforts, construction projects, IT projects, software development, and any project with critical performance, time, and budget targets.
In my opinion, the best part of the program was the chance to see real-life scenarios brought by the course's instructor -- Pam Wiedenbeck, PMP, in my case. Professors Jerry L. Brown and Chris Christensen also provided a great deal of knowledge in detailed project planning and risk management. While the course was structured around the Project Management Body of Knowledge (PMBOK), the instructors' experiences brought to life what the book couldn't at times. There were around 30 students in my class, coming from all different backgrounds and companies, including Boeing, JPL and Edison. We met twice a month for 8 hours each day, until May 16th, the day we all received our certificates of course completion.
I recommend this course to anyone interested in advancing their skills in Project Management. It was truly a phenomenal program. To learn more about this and other courses, visit the Caltech website at http://www.irc.caltech.edu.
So next time you hear us say that we love our clients (and that they love us back), you'll know we really mean it. Thanks Caltech!
---
Sheetal P.
Guidance