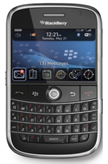 I recently read a story about a German writer who went for a month without using his mobile phone or browsing the Web. He said he suffered from headaches at the beginning of his experiment. Headaches? I would've been nearly suicidal! And according to recent surveys, many Americans would feel the same way.
A study published by Ruder Finn back in February revealed that Americans spend in average nearly three hours per day on their mobile phones (2 hours and 42 minutes, to be exact). Research from Credit Suisse on Mobile Internet Activities (July 2010) also found that American mobile phone users spend about 2.2% of that time, or 25 minutes per week, doing mobile shopping/commerce activities per week. That goes up to 5.1% (58 minutes) and 8.2% (1 hour and 33 minutes) if they are Android or iPhone owners, respectively. That's great news for retailers!
So when's the best time to invest in Mobile Commerce? Yesterday. But fear not -- catching up to the wave is just a phone call away. Your competitors are already doing so, why not you? The Mobile Commerce market will reach $2.4 billions this year, and will continue to grow exponentially, as shown on the chart below.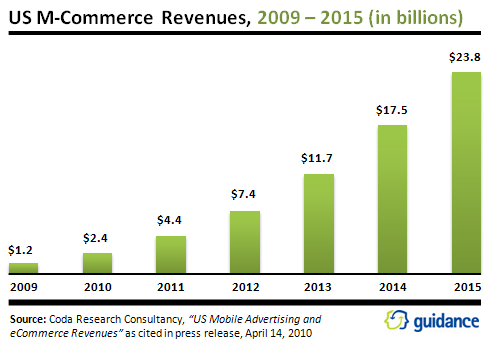 And if you're thinking most of the purchases made are for digital downloads, like apps and music, well, you not entirely wrong. But that's not all they're purchasing. Almost as many buyers who purchase digital downloads purchase consumer electronics. They also buy books and clothing through their phones, as seen below.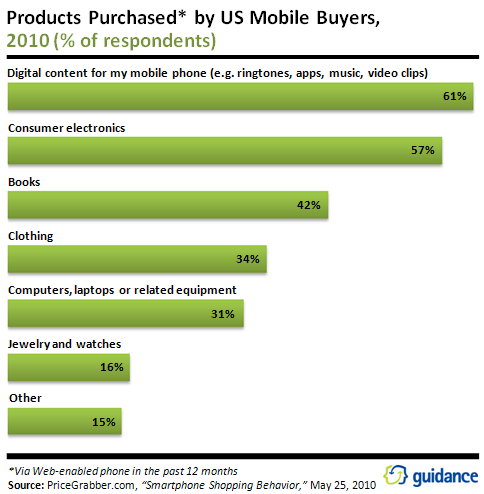 Drop me a note if you are ready to go mobile!
---
Ed K.
Guidance