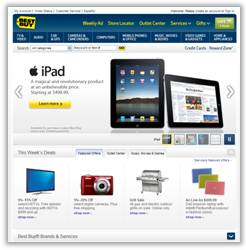 Online sales rocked at Best Buy with the
company reporting 20 percent online growth
year-over-year. The electronics giant won new business online by doubling its investments in customer care initiatives, making improvements to its Web site, and
driving customer engagement on Facebook and Twitter
. Here's a detailed look into Best Buy's fast-growing, $2 billion digital commerce footprint.
In the company's latest earnings call held on March 25, Best Buy announced a string of efforts to grow its online sales 20 percent year-over-year to approximately $2 billion.
The retailer announced it increased its presence on popular social networking Web sites including Facebook and Twitter, which has helped fuel sales growth over the past year. "We expanded our use of social media tools like Twitter and Facebook to engage with customers in virtual spaces where they already spend a great deal of time," said Brian Dunn, CEO, Best Buy.
Dunn also noted that in-store pickup of online purchases increased to approximately 40 percent of total online sales. According to Dunn, the increase in in-store pickup at stores shows the positive net effect of becoming a true multi-channel retail company.
Additionally, the big-box retailer doubled investments in customer care initiatives which resulted in an 18 percent drop in customer complaints versus fiscal 2009. Some of these customer care initiatives included adding more click-to-check capabilities on its Web site and dedicated phone operators in many of its stores to better handle call volumes.
These customer care initiatives all led to increased customer interactions, sales and earnings, according to Dunn. "We are building on our big-box retailing foundation to become a truly multi-channel, multi-format operator," added Dunn.
--
Reposted from RIS