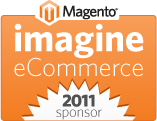 We're excited and very proud to be sponsoring Magento's Imagine eCommerce conference. If you're planning on being at the show, here are some things we're particularly jazzed about, and we think you should be too!
Get to the Monday night event! It's likely the single largest Magento event ever hosted, where hundreds of Magento developers, partners, employees and merchants mingle together. Guidance will be there too, so look for our smiling faces!
Check out the Marketplace! There will be dozens of Magento experts who have delivered the most complex and highest performing Magento sites. You can meet with them to ask questions about what you could be doing tomorrow and in the future with Magento. Guidance will have its "lounge area" over at the Marketplace so make sure to stop by and chat with us. Jon, Mike, Ale, Ticean, Jose and I will be there (with rotating schedules, but we'll be there!) and we'll be happy to help answer your questions about what we've done with previous clients and where the low hanging fruit is for you!
Don't miss the Tuesday night event at Magento's headquarters in Culver City. Not only are the offices awesome, but you'll get to "Magento West Coast style" experience complete with food trucks and good weather!
Contact Guidance if you have any questions about how to get the most out of the conference. We've been serving retailers for years and we're a great sounding board for ideas with Magento.
Look forward to seeing you at Imagine!
---
Ed K.
Guidance