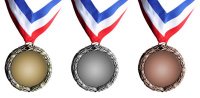 Guidance Delivers Gold Level Service for USOlympicShop.com
If only I had a penny for every time the Olympics' opening ceremony and Michael Phelps's swimming records have been brought up by the media over the past few days... The reality is, the ceremony was spectacular, and Phelps ... that guy is a fish! These Olympics will undoubtedly be remembered for generations to come. So why not own a piece of history?
In 2004, Guidance built USOlympicShop.com, the official online store of the U.S. Olympic Team. The site sells all kinds of collectible items and apparel, including the 2008 Beijing Olympics' must-have item – the driving cap, which was designed by Ralph Lauren and worn by the US Olympic Team at the opening ceremony.
Fans of the U.S. Olympic Team can also make a donation via the site. Contrary to popular belief, the United States government does not provide direct support to the Olympic Committee, and as such, they rely on the generosity of Americans to support our athletes. Gifts to the U.S. Olympic Committee are used to help athletes achieve competitive excellence and meet their basic needs, such as housing, meals, lodging, coaching, sports medicine and travel.
One of the site's most distinctive features is the multiple shipping destinations' option on the checkout section. In addition to its original development, Guidance continuously monitors and maintains the online store to ensure a flawless, Phelps-like performance.
To learn more, visit the site at USOlympicShop.com.