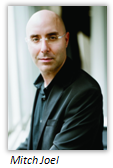 Shop.org is off to a great start! Day 1 of the Shop.org 2010 Annual Summit kicked off with a day-long Boot Camp about all-things eCommerce. The day started with a lesson in monitoring your brand in the Social Media landscape at Social Media YOUniversity. Here, expert and author of "Six Pixels of Separation," Mitch Joel schooled attendees on how to publish their content and track what people are saying about their brand. Leveraging the following free tools will assist monitoring your brand and building a better business:
Social Mention: Social Mention, the self-proclaimed "Google alert of social media," is a real-time social media search engine that aggregates user-generated content such as blogs, videos, comments, tweets, etc. from various social media properties such as Facebook, Twitter, and YouTube into one webpage.
Google Reader: Google Reader is an easy an efficient way to group together everything you want to read about, such as updates and news, from website's/blog's RSS feeds.
Google Alerts: Google Alerts are email updates about the latest relevant Google results based on your choice of topic or query, allowing you to monitor what is being said about certain brands and where.
Google Trends: Akin to Twitter, Google Trends shows the hottest trending topics in real-time. With Google Trends, you are also able to compare trending topics.
Refollow: Refollow helps you manage and protect your Twitter social circle by discovering relevant users, filtering irrelevant ones, exploring the Twitter Social Graph and more.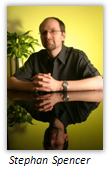 The second half of the day focused on SEO tactics and techniques. Stephan Spencer, Co-author of The Art of SEO, provided a hands-on experience by deconstructing the homepages of various websites. He described practical applications of SEO such as Page Rank Equity and Navigation, where top ranked terms, pages, and products should be featured in the top navigation. Stephan also explained how to ranked pages should be internally linked to each other, where the link is solely the keyword.
For more on SEO tactics and other highlights of the Shop.org 2010 Annual Summit, look out for our post-event newsletter coming out early next week.