Happy Cyber Monday! For eCommerce developers and online retailers, this is one of the most active days of the year. And this year, is no different. Here are some stats about Cyber and other upcoming Mondays: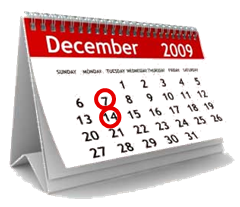 According to the National Retail Federation (NRF) and a recent survey by Shop.org, about 96.5 million Americans are expected to shop online on Cyber Monday, up from 85 million last year.
Another Shop.org survey also found that 87-percent of retailers will offer a special Cyber Monday promotion, up from 83.7% last year and 72.2% in 2007. The most popular promotions are expected to be specific deals, one-day sales and free shipping on all purchases. Half of retailers will distribute promotions and deals to shoppers through a special Cyber Monday email.
Bored at work? While 88.2 million consumers will shop from home today, the NRF estimates that 13.5 will shop during their workday.
4.3 million visitors per minute – According to Akamai's Net Usage Index, which monitors North American visitors to more than 270 retailing Web sites, said that by 11:20 a.m. PT over 4.3 million visitors were drawn to online stores up nearly 39-percent compared to the same time last year. This number is expected to increase later in the day.
Online-payment processor PayPal said the official start to the 2009 holiday-shopping season started online on November 16, when it saw a 28-percent increase in payment volume. On Black Friday, PayPal saw 20-percent more transactions than in 2008.
Once Cyber Monday passes, it is one week until Green Monday (December 7) and two until Brown Monday (December 14):
Green Monday, the first Monday in the December, has been known as the busiest online shopping day of the holiday season.
Brown Monday, the second Monday in December, typically marks the deadline for last-minute shipping with guaranteed holiday delivery, as well as the time when retailers offer discounts to move holiday merchandise out the door. However, the regular shipping cut-off is three days before December 25th, so this year, Brown Monday may not take place until the 21st.
Last year's biggest online shopping day was neither Black Friday nor any of the Mondays mentioned above. It was Tuesday, December 9, according to the NRF.
---
Muliadi J.
Guidance